Looking for a healthy and tasty snack but low in calories? Here I share some easy low calorie snacks that are made with a few simple ingredients and perfect for your daily evening snack break or on the go, let's make and enjoy!
---
21. Apple Cinnamon Pancake
Calories: 85 kcal

Apple cinnamon pancakes are light, fluffy, delicious that are made with few simple ingredients. These low-calorie and gluten-free pancakes are best for breakfast or snacks.

Serve these tasty pancakes with fresh cinnamon apples with honey or maple syrup. Easy to make these pancakes are satisfying and comfortable for your whole family.
Get the recipe here.
---
20. Low-Calorie Banana Muffins
Calories: 71kcal

Banana muffins are soft, moist, quick to prepare at home for snacks or dessert. With only 4 ingredients these muffins are loaded with chocolate chips and banana and create a delicious eggless gluten-free recipe.

These muffins are made without any oil or butter or sugar. The tasty and perfect recipe for snacks or dessert whenever you want to eat or busywork.
Get the recipe here.
---
19. Strawberry Banana Bread
Calories: 107kcal

Strawberry banana bread is delicious, soft, easy to make with few ingredients, and loaded with fresh strawberries. This bread is great for any holiday snacks or takes it as a dessert. This bread is made without any butter, refined flour, or sugar and low calories. Just make it at home and enjoy yourself with your whole family.
Get the recipe here.
---
Related: Strawberry Dessert Recipes
---
18. Parmesan Zucchini Bites
Calories: 88kcal

With only 5 ingredients these Parmesan Zucchini Bites are ready in just 15 minutes. Crispy, tasty, and best-ever side dish idea for meal prep or take these as low calorie snacks. You can make it so easy way and your kids will love it.
Get the recipe here.
---
17. Healthy Banana Oat Cookies
Calorie: 69 kcal

Banana oat cookies are healthy, low calorie, delicious, and perfect for breakfast with milk or coffee. These cookies are made with only 3 simple ingredients are loaded with chocolate chips and banana.

Soft, moist and chewy these cookies are one of the simplest bakes low calorie snacks that you need to try at home. It is a sweet snack that everyone will love to eat.
Get the recipe here.
---
16. Low Calorie Brownies
Calories: 95kcal

Love brownies like I'm am. These brownies are keto-friendly, sugar-free, and eggless. Tasty and made with protein powder and peanut butter.

Also, these brownies are vegan, paleo, low carb, and the best-ever snack recipe for evening or dessert ideas for your sweet cravings.
Get the recipe here.
---
15. Cauliflower Tots
Calories: 95kcal

These cauliflower tots are made with only 6 ingredients and ready in just 20 minutes preparing. You'll love these healthy and delicious side dishes or snacks for evening breakfast or on the go.
Get the recipe here.
---
14. Sweet Potato Chips
Calories: 103kcal

These crispy air fryer sweet potato chips are the best ever snacks that I love so much. With 4 ingredients your sweet potato chips are ready in just 15 minutes of meal prep.

These are healthy, satisfying, homemade, delicious, and gluten-free low calorie snacks that you need to try at home.
Get the recipe here.
---
13. Cucumber Ginger Smoothie
Calories: 110kcal

Need a quick and healthy drink for a snack? Try this cucumber ginger smoothie is made with green apple, lemon, cucumber, and ginger. Healthy, delicious, and refreshing this drink is perfect for summer snack drinks or anytime whenever you want.

This drink gives you vitamins, minerals, especially vitamin C, and a great way to boost your immune system. This is one of my best low calorie snacks for hot days.
Get the recipe here.
---
12. Frozen Yogurt Cups
Calories: 90kcal

Frozen yogurt granola cups are tasty, cold, and refreshing snacks ever for your busy days. It takes only 2 ingredients to prepare at home.

Easy to make these cups are perfect for summer or any holidays. Great taste and fun to prepare these cups are best for your kids.
Get the recipe here.
---
11. Healthy Lemon Poppy Seed Energy Bites
Calories: 129kcal

Lemon Poppy Seed Energy Bites are a soft, moist, delicious, healthy, and sweet treat for everyone. It has a lemon vibrant flavor, poppy seeds and other simple ingredients that make these balls are incredible.
Get the recipe here.
---
10. Devilled Eggs
Calories: 125.3kcal

Love eating eggs? These deviled eggs are a classic and made with mayonnaise, dijon mustard, vinegar, salt, and pepper. So tasty and great for an evening break from your busy work.

You can take these deviled eggs in any holidays, pasties, Easter, or other gatherings. Serve these eggs along with a little sprinkle of paprika that extra pop of flavor.
Get the recipe here.
---
9. Oatmeal Applesauce Muffins
Calories 139kcal

If you need a quick breakfast or snack option for busy days, must try these Oatmeal Applesauce Muffins. Soft, delicious, budget-friendly, and great snack or breakfast for your whole family.

Loaded with fresh apple flavors and have just the right amount of sweetness make these muffins healthy and mouthwatering.
Get the recipe here.
---
8. Cucumber, Avocado, and Tomato Salad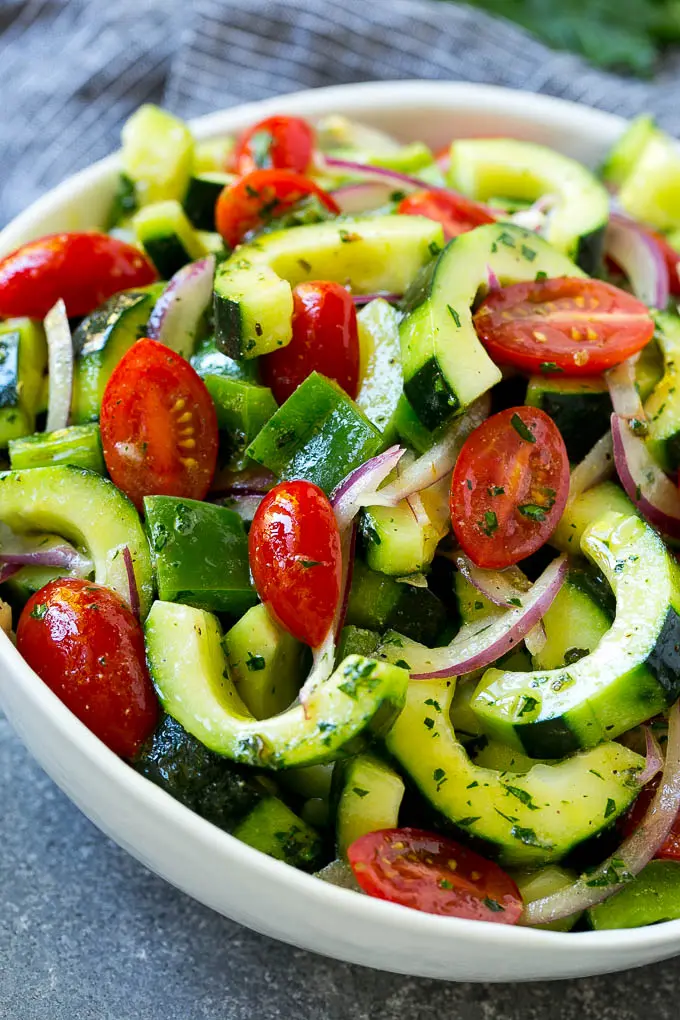 Calories: 107kcal

Cucumber, avocado, and tomato salad are healthy, quick to make with few kitchen staples. Fresh cucumber, green peppers, red onions, cherry tomatoes and avocado tossed in an herb dressing is just a perfect summer side dish or snack.

It is a healthier version for summer days to make you refreshing and cool for any summer meal. Get an amazing combination of flavors and textures.
Get the recipe here.
---
7. Beet Chips
Calories: 42kcal

If you love chips like I'm, then you will love these crispy beet chips. Easy, tasty, baked these beet chips are gluten-free, Slightly sweet, and crunchy low calorie snacks that everyone will love.
Get the recipe here.
---
6. Mango Salsa
Calories 111kcal

Mango salsa is one of my favorite low calorie snacks or side dish recipes that makes me crazy on hot days. Mango salsa is made with sweet juicy mangoes, crisp red bell pepper, creamy avocado, and a bright cilantro-lime finish.

SO tasty, delicious, and perfect side dish or snack or fresh dip or topping. Packed with amazing flavor and satisfying taste in every bite.
Get the recipe here.
---
5. Cauliflower Popcorn
Calories: 54 kcal

Cauliflower popcorn is an amazing appetizer or snack idea for parties or any holidays or on the go. Crispy, lightly fried, and then tossed in the sticky gochujang-honey sauce makes a delicious side dish that you will love so much, must try!
Get the recipe here.
---
4. Peanut Butter Banana Cups
Calories: 80kcal

Peanut butter banana cups are one of the best and easy low calorie snacks made with very few simple ingredients. These cups are a rich, chocolatey, flavorful, and healthy snack for everyone.

Enter your mouth you will get a chocolatey flavor, creamy and tasty ingredients that make you amazing for any holidays or sweet cravings.
Get the recipe here.
---
3. Low Fat Chocolate Mug Cake
Calories: 138kcal

This chocolate mug cake is so delicious but low in fat and low calorie too. When you need a quick snack break, you can make this mug cake at home with few ingredients. Get a chocolate flavor and soft cake for a quick snack break, try it.
Get the recipe here.
---
2. Low Carb Nachos
Calories: 227kcal

These low-carb nachos are so tasty, delicious, made with few ingredients, and filled with chopped steak, lots of gooey, melted cheese, and fresh jalapenos, all baked into mini peppers. Best for holiday snacks or a game day or any parties or get-together.
Get the recipe here.
---
1. No Bake Apple Pie Cheesecake 
Calorie: 95kcal

This cheesecake is so delicious, made with fresh apple pie. It is a healthy, low-calorie high protein snack that is macro-friendly and best for dessert too. 
Get the recipe here.
---
If you like this article about low calorie snacks, please share this with your friends on Facebook and Twitter. Also, you can subscribe to my blog to get all the latest articles forts on your mobile.