If you are looking for some healthy and delicious snacks for busy work or on the go. Must try these easy high protein snacks that are quick to prepare with few simple ingredients and ready in under 30 minutes. 
21. Banana Pancakes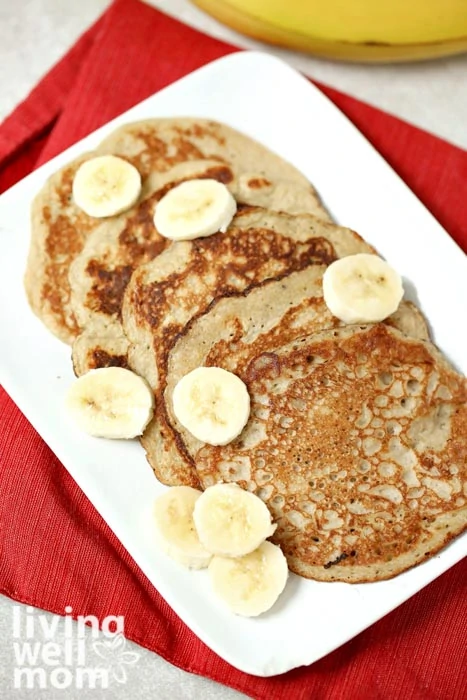 Looking for a healthy and delicious recipe that will last for a long time? You can try this snack. This recipe is kid-friendly and full of protein. You need 2 eggs and 1 banana to make this recipe. It will be ready in 10 minutes. These pancakes are gluten-free, dairy-free, and paleo-friendly. You can add this recipe to your daily diet and for breakfast. 
Get the recipe here.
---
20. Pumpkin Chocolate Chip Protein Muffins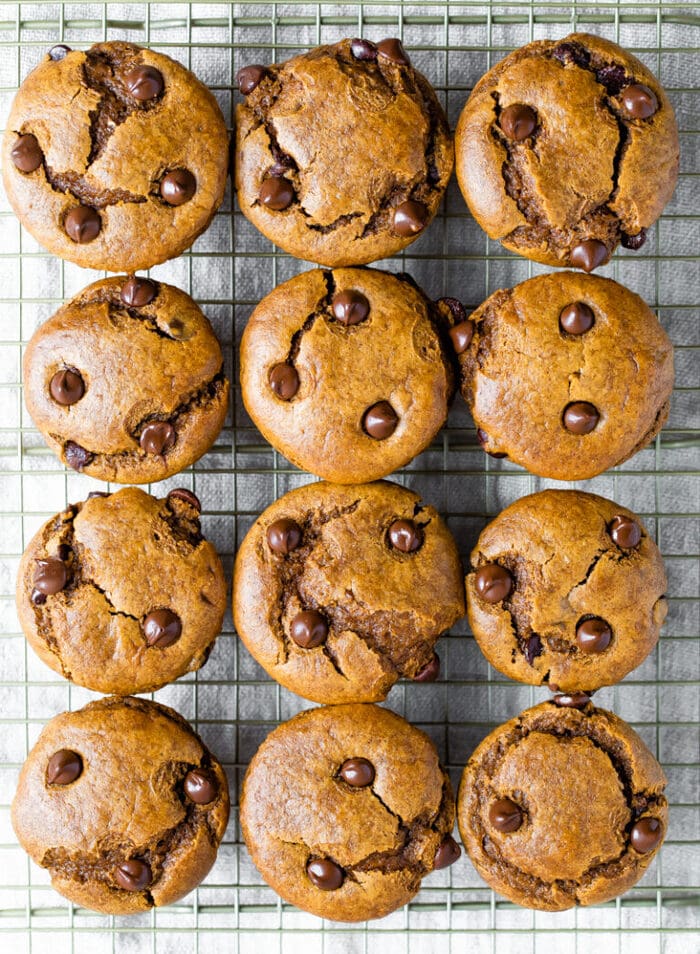 These pumpkin muffins are flourless and you need almonds, butter, and pumpkin to make this recipe. This recipe is oil-free and dairy-free. These muffins are so delicious and a mouthwatering breakfast. If you love chocolate flavor you can try this pumpkin chocolate chip protein muffins recipe.  This muffin has 9 grams of protein per serving. 
Get the recipe here.
---
19. Green Smoothie 
This Green Smoothie is an easy, healthy breakfast smoothie recipe. Loaded with almond milk, frozen fruits, and spinach or kale, this makes the perfect side dish for breakfast. It is keto-friendly and will be ready within 15 minutes. This is good for kids also as it contains high protein and also burns fats and helps in weight loss. 
Get the recipe here.
---
18. Vegan Protein Bars
These vegan homemade protein bars are high protein snacks made with dates, oats, vegan protein powder, and the nut butter of your choice along with mix-ins like chocolate chips and chia seeds. These bars can be made pretty quickly and you can keep them in the refrigerator for weeks without any worries and enjoy it any time. Whenever you are hungry, you can make your stomach happy by taking in a protein bar and it's also tasty too. 
Get the recipe here.
---
17. Tortilla Chips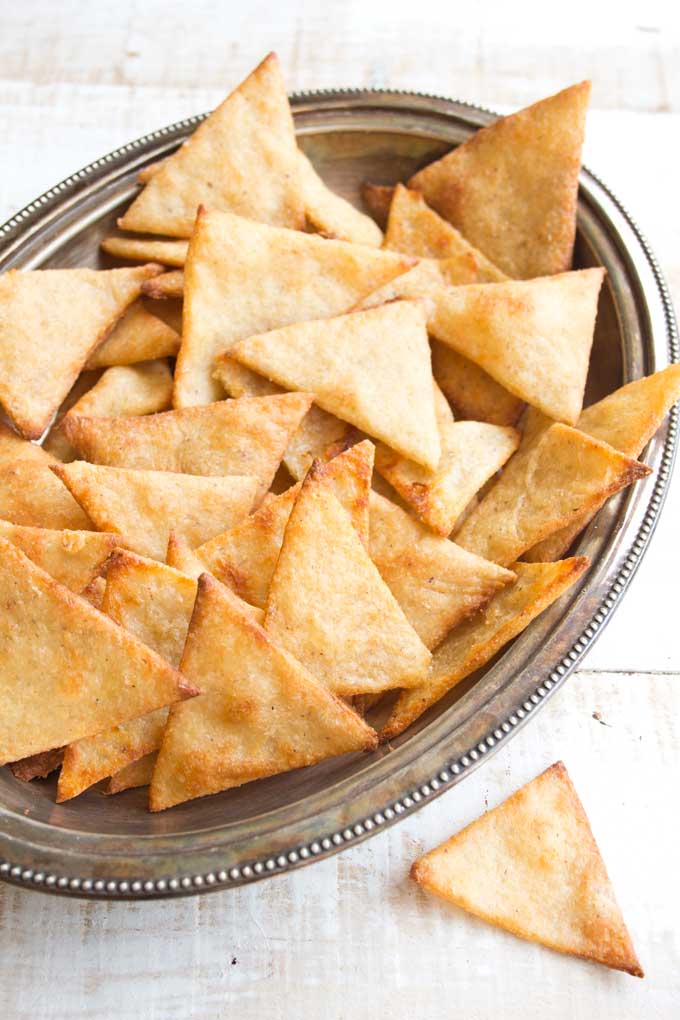 These keto tortilla chips are easy, crispy, crunchy, and perfect to dig in for breakfast or dinner. These have low carbs with only 1.9 grams net carbs per portion. These taste really good and make a dream team with guacamole. You should try this at home and I bet you are gonna love it. 
Get the recipe here.
---
16. Smoked Salmon Avocado Toast 
This smoked salmon avocado toast is really easy to make and it doesn't even require any cooking. You just have to toast the slices mainly. You can pour some olive oil into the bread slices and then toast them before you start piling your toppings. Toasting the bread prevents the soggy bread and you are gonna enjoy eating it for breakfast. 
Get the recipe here.
---
15. Blueberry Banana Smoothie
This blueberry Banana Smoothie is perfect for breakfast. It's thick, creamy with tons of flavors, and is incredibly delicious. It has no added sugars, is full of high protein, and packs powerful antioxidants from blueberries. It has what your body needs every morning and is sweet, tasty, and healthy. They are easy to make when you don't have time to make anything else for breakfast. 
Get the recipe here.
---
14. Spicy Roasted Chickpeas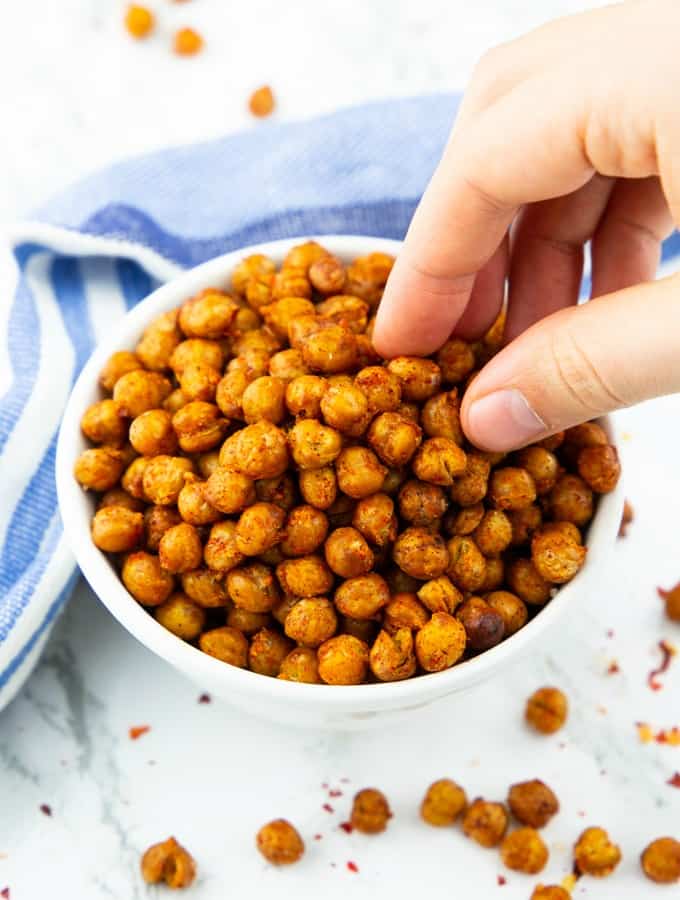 This spicy roasted chickpea recipe makes you feel healthy. This recipe is so delicious for our breakfast and snacks. It is super easy to prepare in just 35 minutes. This recipe is perfect for snacking in front of the TV, our road trips, and so many more.
Get the recipe here.
---
13. Banana Protein Balls
This healthy banana protein ball recipe is vegan and nut-free and paleo-friendly.  There is no added sugar needed. You can add extra dark chocolate for a simple coat with this recipe. This recipe is low carb and good for our health because there are high protein snacks or desserts. These banana protein balls give you energy in every bite. 
Get the recipe here.
---
12. Egg muffins
These muffins are perfect for our breakfast to take to work and our toddler. And you can enjoy this recipe at home too. You need smoked sausage, kale, sun-dried tomatoes, and feta to make this recipe. This recipe makes you feel healthy and helps to reduce your body fat.
Get the recipe here.
---
11. Chocolate Peanut Butter Overnight Oats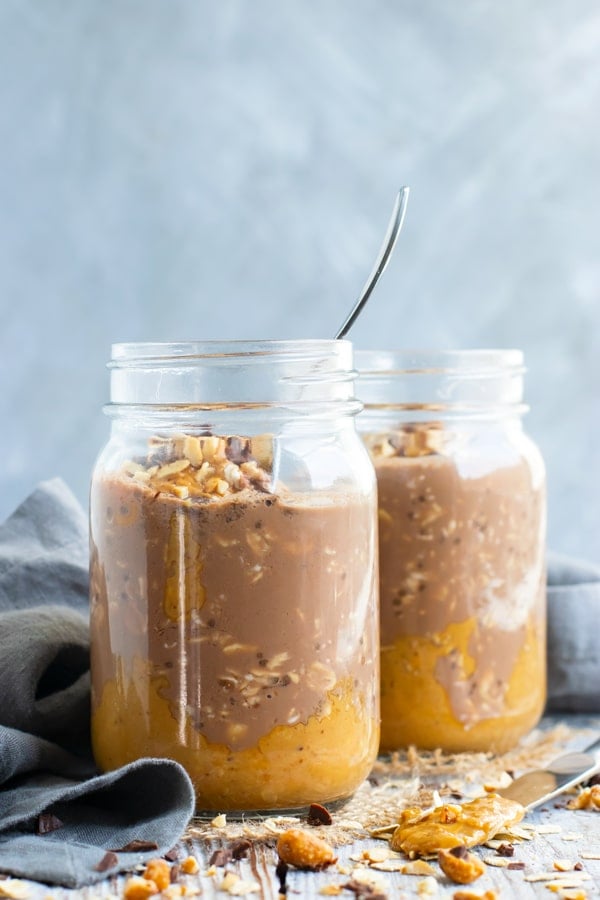 Chocolate peanut butter overnight oats recipe is very easy to make and good for your health. This recipe is great for breakfast and before dinner. You need gluten-free oats, cocoa powder, almond milk, and sweetened with maple syrup to make this recipe. It helps to reduce your body fat. 
Get the recipe here.
---
10. Peanut Butter Protein Balls
These peanut butter protein balls make you feel healthy and you will get this amazing recipe in just 20 minutes. It is a low-carb and keto-friendly recipe. This recipe is perfect for our snacks or dessert or on the go.
Get the recipe here.
---
9. Vegan Banana Protein Muffins
These vegan banana protein muffins are so satisfying, delicious and it's good for our health. This healthy muffin breakfast is easily ready in less than 30 minutes. It will be made low sugar, gluten-free, and oil-free. 
Get the recipe here.
---
8. Egg Avocado Bowl
This bowl will be made in just a few minutes. You can take this recipe for Sunday breakfast and snacks too. Make a big pot of brown rice, soft-boil some eggs, and buy the other ingredients. You can have your delicious breakfast quickly in just 5 minutes.
Get the recipe here.
---
7. No-Bake Apple Pie Protein Bars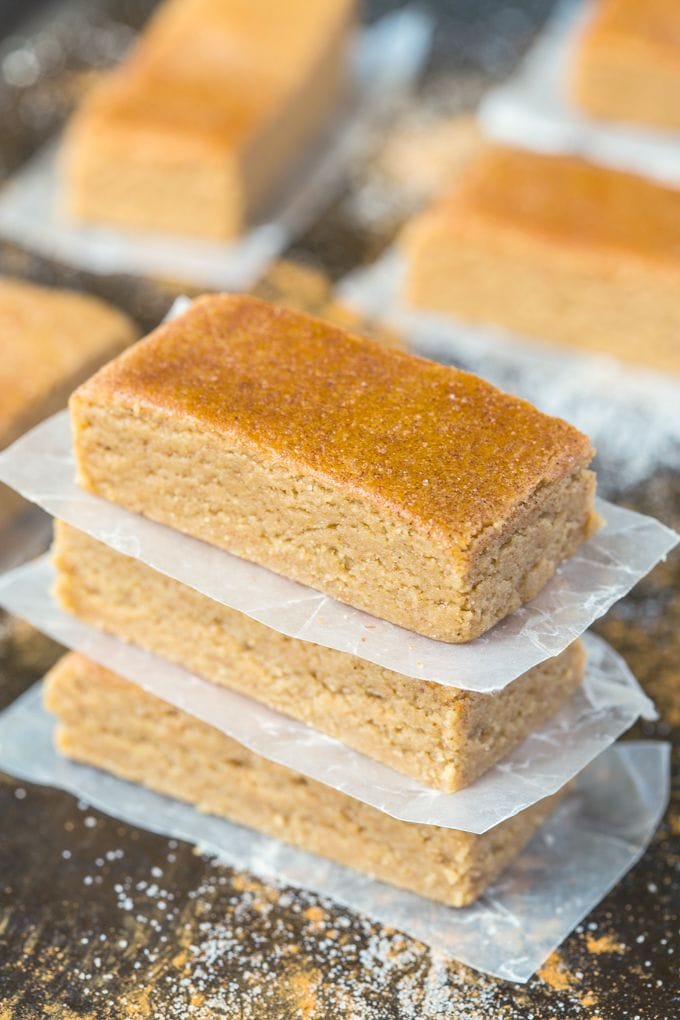 This apple pie protein bar takes only 10 minutes to get ready. This is no baked protein bar and it's to make you healthier. You will get a chewy and soft vibe when you take a bite from it. This recipe has paleo, vegan, keto-friendly, and gluten-free.
Get the recipe here.
---
6. Sea Salt And Garlic Kale Chips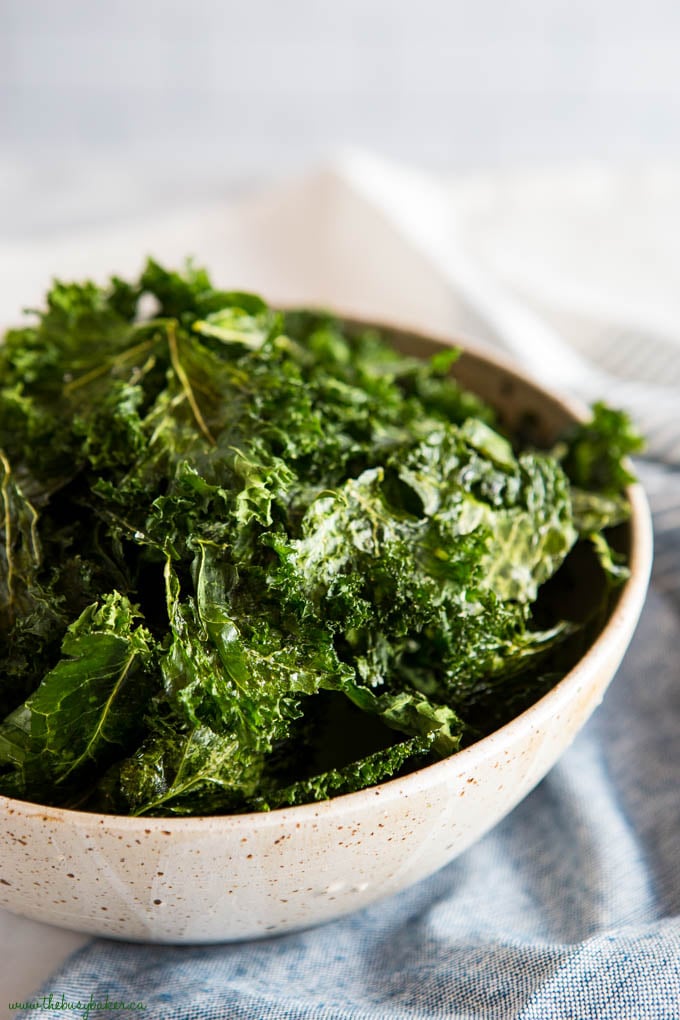 These sea salt and garlic kale chips will be ready in just a few minutes and it's good for our health. This recipe is made with basic ingredients and you can enjoy this snack on the go. If you want you to have to make chips cool on the pan for about 5minutes before and enjoy it. It's very crunchy and crispy. 
Get the recipe here.
---
5. Blueberry Yogurt Protein Bites
These blueberry yogurt protein bites are full of proteins and maintain your health. Nowadays, it's really hard to find dishes with a good amount of protein. But these yogurt bites are delicious and healthy at the same time and are ready in just 30 minutes. This is one of my best high protein snacks that is great on the go. 
Get the recipe here.
---
4. High Protein Berry Crumble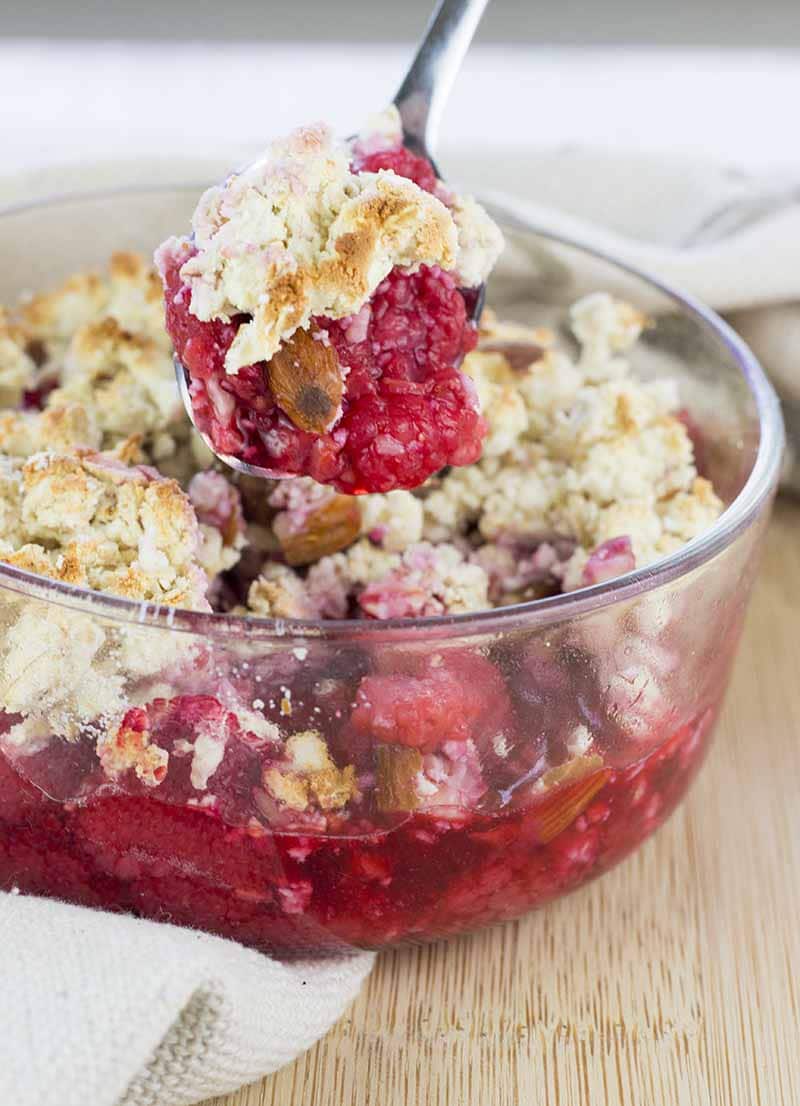 This Berry crumble is so delicious and tasty that you will be shocked to know that it is full of high protein and carbs. It's perfect for a healthy breakfast or dinner or snack. It will taste like you are having a dessert but actually, it's good for you. You can surely try this at home. 
Get the recipe here.
---
3. Black Bean Brownies 
These black bean brownies are healthy high protein snacks made out of black beans in the blender with an emphasis on the fudgy part. They are really good and flourless and also gluten-free. I have never tried it before but after I had this, I was like oh my gosh these are so amazing. You should surely try this at home. 
Get the recipe here.
---
2. Chocolate Chia Protein Pudding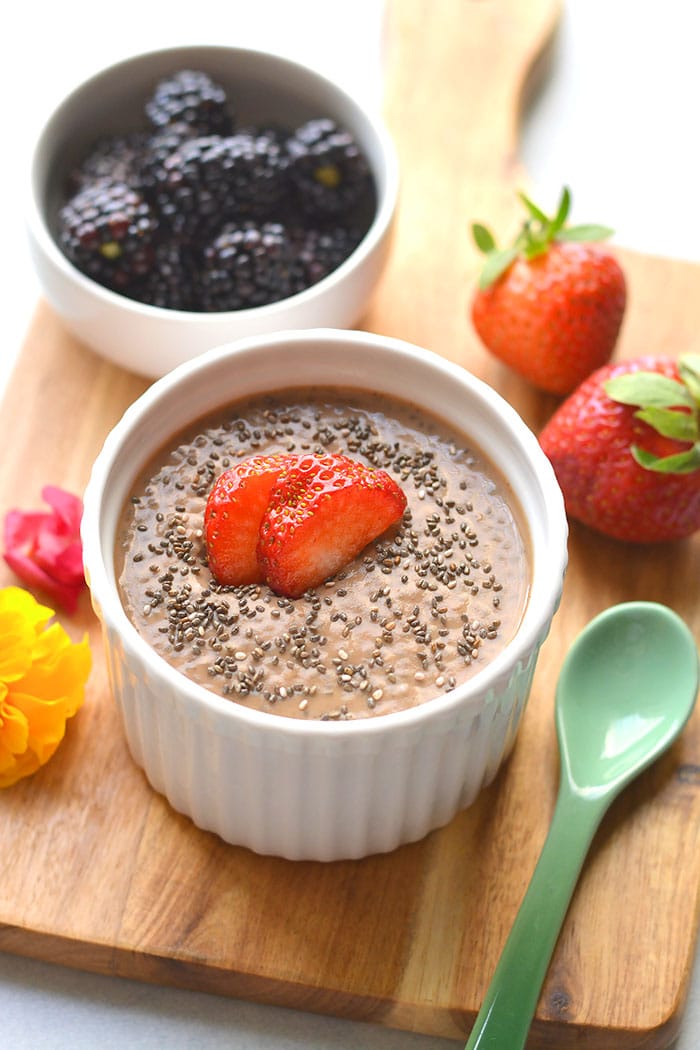 These chocolate protein chia puddings are high protein snacks with low calories and easy to make. They are dairy free, Keto and vegan friendly. These are not suitable for weight loss because they are high in fat. If you want to increase your weight, you can surely try this recipe. 
Get the recipe here.
---
1. Lettuce Wraps with Chicken and Avocado
This is my favorite recipe and quick recipe for our lunch. It's served with lettuce wraps lightened up with healthy avocado. You can add mayonnaise if you want or skip it. It's the best recipe for our breakfast and dinner. 
Get the recipe here.
---
Related Recipes You May Like:
Weight Watchers Recipes
Strawberry Dessert Ideas
Meals Under 200 Calories
Weight Watchers Smoothie Recipes
High Protein Low Fat Recipes
Vegan Chickpea Recipes
Weight Watchers Lunch Recipes
Snacks For Breastfeeding Recipes
Keto Lunch Ideas
Weight Watchers Breakfast Recipes
Low-Calorie Snacks
---
If you like this article about "high protein snacks", please share this with your friends on Facebook and Twitter. Also, you can subscribe to my blog to get all the latest articles first on your mobile.