Here are our top 21 egg breakfast recipes! Try them all for deliciously protein-packed ways to start the day. There's nothing quite like egg recipes for breakfast, is there? Eggs are uniquely delicious and protein-packed, making them a powerhouse for starting off your morning. One egg has a whopping 7 grams of protein and 75 calories. Worried about cholesterol? Recent research shows eggs actually increase the good cholesterol the body needs. To be honest, we like to eat egg recipes for any meal of the day (especially for dinner). But when it comes to breakfast, there are some clear winners we come to time and time again.
---
21. Freezer Breakfast Burritos
Weekday mornings just got easier with these delicious make-ahead Freezer Breakfast Burritos! Loaded with eggs, tater tots, sausage, and cheese! Great for breakfast on the go, camping, hiking, regular breakfast, or even dinner. These Freezer Breakfast Burritos will become your new best friend. Prep them over the weekend and you've got breakfast for the entire week. They reheat so well and since they're portable, you can grab them and go on the way to school or work. Plus they fill you up until lunchtime!
Get the recipe here.
---
20. Sausage, Spinach, and Feta Egg Bake
This Sausage Egg Bake is an easy breakfast recipe made from fresh and simple ingredients! Combine breakfast sausage, greens, broccoli, red pepper, and feta cheese with eggs to create a meal that tastes great for any meal of the day. This egg and sausage breakfast casserole is a versatile breakfast bake that is enjoyed any time of the year. Fresh vegetables and hearty breakfast sausage along with salty feta cheese create a meal that is packed with protein and nutrients and can be customized in many different ways.
Get the recipe here.
---
19. Hash Brown Breakfast Pizza Recipe
Eggs, cheese, and veggies baked on a Simply Potatoes Hash Browns crust. This tasty twist on pizza is sure to brighten up your breakfast or brunch. What better way to wake up than with a breakfast pizza loaded with hash browns, eggs, and cheese. Breakfast pizza is a great crowd-pleasing breakfast that can be customized to fit the needs of everyone in your family. Every slice of pizza is packed full of protein and makes a great filling breakfast. Any leftovers can be tightly wrapped up in a plastic wrap and frozen for up to 4 weeks for an easy recipe to go.
Get the recipe here.
---
18. Easy Breakfast Quesadilla Recipe
Looking for some new easy and healthy egg breakfast recipes? You'll love this healthy breakfast quesadilla recipe…Filled with eggs, cheese, and vegetables this vegetarian savory breakfast recipe is filling, delicious, and pretty quick to make. I am currently obsessed with this easy quesadilla recipe! I would make it for breakfast, and I'd also make it for lunch at 3 pm if I haven't eaten anything yet. It's great to serve with some fresh tomato sauce or avocado sauce, but honestly, this recipe is quite perfect on its very own.
Get the recipe here.
---
17. Keto Bacon and Egg Breakfast Bowl
This keto bacon and egg breakfast bowl can be the staple of your high-fat recipes. Featuring fried cauliflower rice and onion. Made in less than 10 minutes! I don't think nothing screams egg breakfast recipes more than the classic bacon and eggs. Surprisingly nothing screams keto more than bacon and eggs as well. Yet, the quick and easy breakfast combo can become repetitive and stale. Let's spice things up, shall we? I brought cauliflower and onion into the picture. Not only that but a different method to how it's cooked. Changing your cooking methods can do wonders for your dishes. Texas barbecue is famous and most ribs are just salt and pepper.
Get the recipe here.
---
16. Keto Bacon Egg Cups
With just 1 gram of net carbs each, these bacon egg cups are a perfect breakfast and brunch meal when you're on a keto diet. You can make them ahead and have them for the days to come! These Egg Breakfast recipes are flavorful, nutritious, and just so satisfying to eat! When you fail to plan, you plan to fail. This is especially true if you're on a keto diet. That's because there are high-carb foods everywhere. Foods like cookies, muffins, and candies.
Get the recipe here.
---
15. Omelet Chaffle
Keto omelet for one, please! This single-serve keto omelet can be made as a keto omelet-in-a-mug or as a crispy keto waffle (Chaffle). These egg breakfast recipes are perfect for busy mornings and are packed with eggs, cheese, and veggies. It can be made in a mug in the microwave or in a waffle maker, like the Dash Mini Waffle Maker (what ketones use to make "Chaffles," aka keto waffles made from cheese). It's loaded with oh-so-much much cheese (plus eggs and veggies!). It's single-serving for easy creation and clean-up. It's ideal for busy mornings.
Get the recipe here.
---
14. Italian Baked Eggs
These Italian Baked Eggs are a delicious, savory dish that tastes like eating lasagna for breakfast (with fewer carbs and more protein.) Perfect with crusty french bread dippers, but just as good with a fork! Now that I've perfected how to bake eggs in the oven, I eat them at least once a week! I love to add new flavors and this version of Italian Baked Eggs is my latest favorite. You can customize the flavors by adding different veggies (mushrooms, peppers, tomatoes), different cheeses (mozzarella, feta, gruyere), or different herbs (basil, parsley, cilantro).
Get the recipe here.
---
13. Migas Recipe (Scrambled Eggs with Crispy Tortillas)
This quick and easy Migas recipe is the perfect Mexican breakfast with lightly scrambled eggs tossed with crispy tortillas, jalapeno peppers, tomato, and melted cheese. Do you enjoy scrambled eggs with a Mexican twist? If so, you're going to love Migas. Migas is a traditional Mexican breakfast dish of scrambled eggs that have been cooked with peppers, onions, and tomato, then finished with homemade crispy fried tortilla strips and melty cheese. Cooks often use leftover tortillas that have started to go stale, which is a perfect way to avoid waste.
Get the recipe here.
---
12. Creamy, Custardy Folded Eggs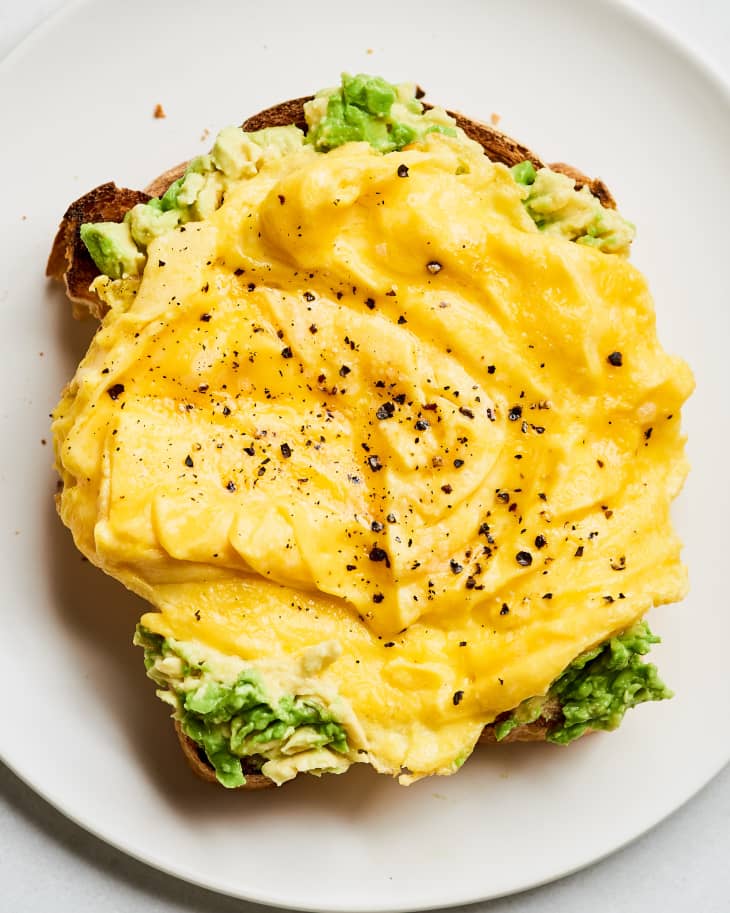 Australian all-day cafes have been popping up all over New York City, and each one offers some rendition of a "folded egg": a large, circular, scramble-omelet hybrid with ruffles that sort of resemble a rose. It's often plated atop a piece of avocado toast or served alongside sliced avocado and veggies. It's not just the interesting shape that appeals to me, though — I've truly found this folded style to be my new favorite way to eat eggs. It holds together better than a scramble (which easily slips off my toast every time I try to take a bite), but it's much softer and more custardy than an omelet, which is so often overcooked and rubbery.
Get the recipe here.
---
11. Cheesy Sausage Egg Skillet
Are you in a rush and need to make breakfast or dinner? This Cheesy Sausage Egg Skillet is one of our go-to egg breakfast recipes when we are short on time or just don't want to spend much time on breakfast or dinner. Cheesy Sausage Egg Skillet is one of our favorite meals around here. We all love the taste, and I love how quick and easy it is to make. Once you are pretty close to having your sausage done, coat a large skillet with cooking spray and turn the heat on medium-high to high heat. While your skillet is warming up, beat your eggs until they are nice and scrambled.
Get the recipe here.
---
10. Sweet Potato Egg Cups
Sweet potato egg cups are healthy, nutritious, flavorful, and tasty! Shaved or thinly sliced sweet potatoes lined in muffin cups, filled with eggs – vegetable mixture, and baked to perfection is the filling breakfast you need! Serve these baked egg cups for breakfast, brunch, or light dinner! Typically (in my home), this recipe makes for a perfect breakfast on busy weekdays. However, my kids eat them as lunch or dinner sometimes. These egg breakfast recipes are savory, sweet, and insanely delicious. Therefore, look no further for a satisfying breakfast that will keep you fuller for longer! On the positive side, this recipe is suitable for a healthy breakfast meal prep.
Get the recipe here.
---
9. Pesto Egg and Bagel Breakfast Sandwich
This breakfast or brunch sandwich is super easy and straightforward to make! Toasted everything bagel, with pesto, avocado, turkey bacon, a fried egg, and mixed greens. I love savory egg breakfast recipes in the mornings and this bagel sandwich definitely hits the spot! Simple bacon and egg sandwich elevated with the addition of pesto and avocado. It's an easy go-to breakfast that you'll be wanting to eat all the time.
Get the recipe here.
---
8. Bundt Pan Bacon Egg and Cheese Brunch Bread
This Bundt Pan Bacon Egg and Cheese Brunch Bread has such a pretty presentation making it perfect for any special occasion breakfast or brunch. Homemade biscuit batter, crispy bacon, scrambled eggs, and Borden Cheese baked to golden perfection in a bundt pan show the love in each and every slice. The cake-like shape gives you the opportunity to display it on a pretty cake pedestal which is sure to make it the centerpiece of your Mother's Day celebration.
Get the recipe here.
---
7. Healthy Avocado Egg Salad
This avocado egg salad recipe is such a great sandwich filler. Easy and quick to make with just a few ingredients, it's so wonderfully creamy! This avocado and egg salad is a great easy recipe, perfect for when you want lunch in a hurry! It's wonderfully seasoned and creamy – what are you waiting for, pile it high and make the most delicious sandwich!
Get the recipe here.
---
6. Breakfast Taquitos
Loaded with eggs, sausage, sun dried tomatoes, avocado and melted cheese, you'll have these freezer-friendly breakfast taquitos ready in just 2 minutes! These egg breakfast recipes are freezer-friendly so I can actually make a ton of them! Simply bake these according to the directions listed below and freeze them so you can fulfill you taquito cravings any time. They definitely come in handy in the mornings where I can pop these into the oven for about 20-30 minutes, take a shower and then indulge in a cheesy, breakfast taquito loaded with eggs, Italian sausage, sun dried tomatoes and avocado. 
Get the recipe here.
---
5. Sausage and Egg Whole30 Breakfast Casserole
This Sausage and Egg Whole30 Breakfast Casserole is healthy, delicious and full of flavor! Made with sausage, eggs, spinach, peppers, onion, and spices, it's so good you'll want to eat it every day of the week. I'm so excited to share this delicious and healthy Sausage & Egg Whole30 Breakfast Casserole with you today, as it's something I've been loving eating over the past month. Yep, that's right. I've secretly been doing Whole30 for 1 month now – which means I've gone a full 30 days without dairy, sugar, grains, legumes, alcohol, and processed/junk foods.
Get the recipe here.
---
4. Ham Egg and Cheese Hash Brown
These Hash Brown Ham and Cheese Egg Cups are just one of the simple egg breakfast recipes I'm teaching my sister to make for her first year in an apartment in college. Easy and quick egg breakfast recipes, freezer friendly and full of protein are high on my list. I like these egg muffin cups because she can make up a batch on the weekend for easy grab and go breakfast ideas all week. They remind me of my Egg Biscuit Cups with Sausage which gives you great breakfast ideas using Pillsbury biscuits. Another favourite! 
Get the recipe here.
---
3. Dairy Free Banana Pancakes
Start your morning with these dairy free banana pancakes for a tasty treat!  These flapjacks are incredibly easy to make, and you'll love the hints of sweet banana flavor throughout each bite.  They're also egg free, and are made with common kitchen ingredients.  I love this recipe because the only "specialty" ingredient you need is dairy free butter, which is widely available at grocery stores these days.
Get the recipe here.
---
2. Broccoli Cheddar Egg Bake with Turkey Bacon
Broccoli Cheddar Egg Bake with Turkey Bacon is a gluten free, low carb, and veggie packed breakfast recipe! Made with sharp cheddar cheese and simple seasonings, this healthy breakfast casserole is quick, flavorful, and delicious. Perfect for savoury egg breakfast recipes or to serve at brunch! All you need for this Broccoli Cheddar Egg Bake with Turkey Bacon is a few simple and healthy ingredients. The result is a gluten free, low carb, cheesy, and veggie packed breakfast recipe!
Get the recipe here.
---
1. Mini Egg Muffins With Sausage, Cheddar, And Onion
Mini egg muffins may just be the cutest, and most delicious, breakfast ever! Filled with sausage, cheddar and hash browns, this easy breakfast recipe will have everyone jumping out of bed! Mornings are crazy for us, especially during the school year, so I'm all about the easy breakfast ideas! That's why these mini egg muffins are one of my favorite breakfast recipes, especially for those busy mornings! They're a great idea for a quick morning snack, a family breakfast or even a delicious recipe for a brunch.
Get the recipe here.
---
Suggested Recipes You May Like:
Cranberry Recipes
Keto Air Fryer Recipes
Chocolate Dessert Recipes
Chia Seed Recipes
Brunch Recipes
High Protein Salad Recipes
Peaches Recipes
Weight Watchers Air Fryer Recipes
High Protein Vegan Meals
Protein Ice Cream Recipes
Fruit Dessert Recipes
Weight Watchers Recipes
Snacks For Breastfeeding Recipes
Banana Dessert Recipes
Ground Chicken Recipes
Margarita Cocktail Recipes
---
If you like this article about "egg breakfast recipes", please share this with your friends on Facebook and Twitter. Also, you can subscribe to my blog to get all the latest articles first on your mobile.