Chili is a hearty meal that will warm you up on cold, winter nights. You can serve it up with a few complementary side dishes or all by itself. It's great either way! Our family loves chili with a side of cornbread or a bowl of chips. But there are lots of incredible side dishes that will transform this tasty bowl of goodness into an unforgettable meal. You can go with the classics like cornbread and tortilla chips. Or change it up with some soft pretzels and cheesy potato skins. Here are my top 21 chili side dishes for game night, get-togethers, or simply a fun family dinner.
---
21. Sweet Potato Fries
Crispy oven-baked sweet potato fries are a healthy alternative to your regular potato fries. Crunchy outside, delicious soft melt-in-your-mouth inside. These baked fries are too good to resist just like baked potato wedges and baked potato roses! This recipe can be easily doubled and trust me you won't have any leftovers. These baked sweet potato fries are delicious, easy-to-make chili side dishes. Baked sweet potato fries are better and healthier than regular fries. It sure satisfies cravings for crunchy food. If you having a gathering don't forget to impress your family or friends with this ultimate Southern fried chicken, it's perfect for occasions like this. These baked sweet potatoes fries are best when served with a dipping sauce, any dipping sauce of your choice. Serve it with a great dip like roasted bell pepper hummus or tahini. If you are team ketchup, go ahead and enjoy it with ketchup.
Get the recipe here.
---
20. Sweet Thai Cucumber Salad
Thai cucumber salad is a refreshing side dish for any meal and it only takes a few minutes to throw together. Thinly sliced cucumbers tossed in a sweet and spicy sauce along with red onions or green onions, peanuts, and cilantro a delicious refreshing side dish. Pair it with any protein for a refreshing side dish. If you don't like them or have an allergy this salad is delicious without them or you could even add some slivered almonds for the added crunch factor. This salad is best served fresh, you can make the dressing up to 4 days ahead and store it in the refrigerator and toss it right before serving.
Get the recipe here.
---
19. Thai Sweet Chili Green Beans
Thai Sweet Chili Green Beans will rock your vegetable world! You'll love this quick and easy way to enjoy green beans that's a little spicy and a whole lot delicious! However, green beans are one vegetable that grows well here and we always have a bumper crop. Therefore, I'm always looking for new ways to prepare green beans. Here is one of my favorite ways to enjoy them now–Thai Sweet Chili Green Beans. This recipe is quick and makes a nice accompaniment to Thai-inspired dishes when you want to do something different besides rice or noodles. This preparation will keep them nice and crisp but if you like your green beans a little softer, just cook them a little longer.
Get the recipe here.
---
18. GROUND BEEF TACOS
These crispy ground beef tacos are filled with seasoned meat, lettuce, cheese, and tomatoes. An easy dinner recipe that the whole family will enjoy, even your pickiest eaters! Includes a recipe for ground beef taco seasoning. My beef tacos are so much better than the fast-food version, especially when you use homemade taco seasoning instead of the store-bought kind. Best of all, these chili side dishes can be on the table in 20 minutes. To make taco meat, you'll need ground beef, taco seasoning, onion, and canned tomatoes. The onion and beef are cooked until browned, then seasoned with homemade taco spice and tomatoes.
Get the recipe here.
---
17. Air Fryer Broccoli with Sweet Chili Sauce
Air frying broccoli is a very simple and fast way to enjoy perfectly crisp and tender florets. This delicious comfort food side dish can be served with a little salt and pepper, or with a spicy and savory sauce made of Sichuan chili flakes, soy sauce, rice vinegar, and sesame oil (my favorite). Using an air fryer to cook broccoli is one of the best and easiest techniques to achieve great texture. If you love roasted vegetables but sometimes hesitate to make them because the entire process takes too long, or it makes your kitchen too hot, then using an air fryer will change your life!
Get the recipe here.
---
16. ONION RINGS
Gluten Free Onion Rings are a special, savory treat of battered onion rings that are fried to perfection. A few substitutions to make these gluten free onion rings entirely gluten free and completely delicious. I absolutely love a good onion ring. They are savory, salty, crispy, and crunchy, and packed with sweet oniony flavor. There might not be anything better. These are the best gluten-free onion rings I've ever had. Probably what makes them so good is that we are making them the traditional way and frying the onion rings in hot oil. Baked onion rings could never compare to this recipe and perfect side dishes for chili.
Get the recipe here.
---
15. Fritos Corn Salad
Crisp corn, bell pepper, cheese, and Chili Cheese Fritos in a creamy dressing. Fritos Corn Salad is the perfect no-cook, super-easy summer chili side dishes for all your barbecues! Today I have one of my all-time favorite summer side dishes. I know we have talked at length about my love of Fritos corn chips so this should come as no surprise. It takes just a few minutes to put together and it is always a hit. Take it to barbecues, serve it as a side for dinner, or serve it as a dip at your next party! I promise everyone will love it. No, it's definitely not low-calorie. It's fine.
Get the recipe here.
---
14. Broccoli Apple Salad
This Broccoli Salad Recipe with creamy lemon dressing is one of the first and most loved recipes on my blog; an oldie but a goodie! Broccoli Apple Salad is loaded with crunchy broccoli, crisp apples, chewy craisins, and toasted pecans. The creamy dressing brings everything together and it just works. This salad has a shortlist of ingredients but each is important for that It's sweet, tart, and crisp flavor profile. This creamy lemon salad dressing combines real mayonnaise, sour cream or cream cheese, freshly squeezed lemon juice, sugar salt, and pepper. The sour cream lightens up this creamy dressing and the lemon adds a vibrant fresh flavor. This recipe is a home cook dish that you can ready in just 15 minutes at home.
Get the recipe here.
---
13. Chili Crisp Broccoli and Labneh
This chili crisp broccoli and labneh will be one of your new favorite chili side dishes. It's creamy, tart, spicy, and loaded with the delicious flavor of roasted broccoli. If you're looking for a delicious chili crisp side dish recipe, you must give this chili crisp broccoli a try. It is a perfect pairing of bold flavors and contrasting textures that makes it an ideal side dish recipe. Labneh is a soft Middle Eastern cheese made from strained yogurt. It is thicker and creamier than Greek yogurt but still retains the tart sourness associated with Greek yogurt.
Get the recipe here.
---
12. Creamy Coleslaw
Easy homemade coleslaw with a simple dressing. The perfect coleslaw must be creamy, crunchy, sweet, and tangy at the same time. This is a classic coleslaw recipe, it's seriously good and perfect for any occasion! Coleslaw or coleslaw is essential to any summer backyard party, with barbecued meats, grilled chicken, hamburgers, sandwiches, and hotdogs. It's a wonderful classic side that I never buy from the store, and it's always on my "to make list" as nothing beats a delicious homemade coleslaw! Even though a coleslaw is a very simple recipe, it's packed with flavor and complements many dishes. Here are my top tips for the best coleslaw recipe that is best for chili side dishes!
Get the recipe here.
---
11. Jalapeno Cheddar Cornbread
There's nothing better than a slice of homemade skillet jalapeño cheddar cornbread! Made with a handful of staple pantry ingredients, this cornbread turns out tender and flavorful, with chopped jalapeños and melty cheddar cheese. If you love skillet cornbread, you'll need to try this jalapeño cheddar version! Made with simple pantry staples and fresh jalapeños – easy to make for even a novice baker. Skillet cornbread is tender and crumbly with a crunchy, buttery crust. Perfect for pairing with a bowl of chili, some oven-baked chicken, or chicken tortilla soup. To make this recipe, you'll need a 10-inch cast-iron skillet and a single bowl. In just 30 minutes you'll have a skillet of warm, homemade cornbread.
Get the recipe here.
---
10. Roasted Chili Spiced Carrots
These delicious Roasted Chili Spiced Carrots pair amazingly with simply seared chicken breasts, steak, turkey, or even pork! While side dishes should be simple, that doesn't have to mean they have to lack flavor! These Roasted Chili Spiced Carrots are full of warm, spice flavors! This recipe is totally suitable for kids who like a little flavor! Carrots are my oldest son's favorite vegetable. While he usually prefers them raw, he will eat roasted carrots without too much complaining. In this recipe, the chili and cumin spices add a nice flavor to the carrots, but not a burn-your-mouth type of spiciness.
Get the recipe here.
---
9. Cucumber-Sesame Salad with Garlic Chili Oil
Cucumber-sesame salad with yogurt, mint, and garlicky chili oil. This Asian cucumber salad is light and nutritious, and super easy to make. Cucumbers and yogurt are one of the most refreshing combinations of all time. However, what really adds a layer of intrigue to this combo is garlic and chili flakes. The garlicky chili oil adds depth, complexity, and just enough kick to liven up anything you pair it with. For example, grilled fish, burgers, chicken, or even strips of baked tofu. The chili oil is also fantastic as a stand-alone condiment. You can drizzle it over just about any grilled protein or vegetable you're cooking up.
Get the recipe here.
---
8. Pan Fried Brussels Sprouts with Sweet Chili Sauce
Pan-Fried Brussels Sprouts with Sweet Chili Sauce start by caramelizing the sprouts to give them amazing flavor and texture. Then they are cooked in the most amazing Sweet Chili Sauce which gives them some sweet heat. Absolutely irresistible! I think most kids dislike Brussels sprouts. I certainly did. The way they were prepared when I was a kid left them mushy and tasteless. No bueno! Pan-Fried Brussels with Sweet Chili Sauce starts by caramelizing the sprouts in a cast-iron skillet. If you don't have cast iron, use whatever you have. Pan-frying gives them an amazing caramelized flavor and texture they are topped with Sweet Chili Sauce which gives them some sweet heat. Absolutely irresistible! Enjoy! Also, you can try this recipe on the baking sheets as well. This is an amazing sides for chili or serve with chili or eat with chili whatever you say.
Get the recipe here.
---
7. Easy Maple Chili Tofu
This Maple Chili Glazed Tofu is easy to make and full of so much flavor! It's spicy and sweet and has a great texture. This tofu would make wonderful vegan chili side dishes for Christmas or Thanksgiving! I am so excited to share this Maple Chili Glazed Tofu recipe with you today! There seems to be a common misconception among non-vegetarians/vegans that tofu is boring and bland. I think everyone will agree that's not true after they eat this tofu! I created this Maple Chili Glazed Tofu recipe as a high protein, low carb main dish that's fancy enough for Christmas and easy enough for a weeknight dinner!
Get the recipe here.
---
6. Calabrian Potatoes and Peppers
Italy is loaded with wonderful vegetable combo dishes that serve or dishes to serve either as antipasto…..as a contorno (side dish) or as a secondo or primo…first or second course. Many of these regional dishes are even amazing as sandwich fillers. Growing up Pepper Onions and Potatoes was not an uncommon dish that would be placed in Italian bread. Long Hots, Sweet peppers, endless possibilities. In Calabria in Italy's deep South this melange' of Potatoes with a mix of Sweet and Hot Peppers, garlic, onions, good olive oil, herbs and it's a sort of national "regional" thing. Every Calabrian will probably make it a little different and every cook/chef will add their own twist or style to it. It's pretty basic WHICH is one of the hallmarks of Italian Cuisine. 
Get the recipe here.
---
5. Chili Mango Glazed Cauliflower (Vegan Recipe)
Here in the Philippines, we have mangoes all year round but they're sweetest in the summer! I made these Chili Mango Glazed Cauliflower for the first time last July and recently just tried it again with a few adjustments that you can as finger food or a great bowl of chili or dish for chili. I used my crispy cauliflower recipe as the base for this one and made the sauce. For the sauce, you can easily adjust the measurements based on your desired flavors. Hope you like it!
Heat the saucepan and add a little oil. Sauté the bell peppers until cooked, if using. Pour the sauce puree into the pan. Leave to simmer until it boils. Once it boils, add in the cornstarch mixture/slurry. Stir until it starts to thicken. Turn off the heat and add in the crispy cauliflower. Coat well then sprinkle some spring onions if desired. Enjoy these while hot these Chili Side Dishes!
Get the recipe here.
---
4. Zucchini Fritters
This handy Air Fryer Zucchini Fritters recipe is a fantastic way to get your kids to eat their veggies without any resistance! Crispy, flavorful, and nutritious, these zucchini cakes utilize the power of delicious shredded zucchini for a filling and delicious snack or side. This air fryer zucchini fritters recipe is what you've been missing in your life! It results in adorable little zucchini pancakes that are crispy and packed with flavor, and best of all, they're not all that bad for you! Guilt-free and perfect to serve as a snack or appetizer, zucchini fritters are a quick and yummy way to get some veggies into your kids. Pair them with your favorite dipping sauce; they go with just about anything.
Get the recipe here.
---
3. Broccolini and Shiitake Mushrooms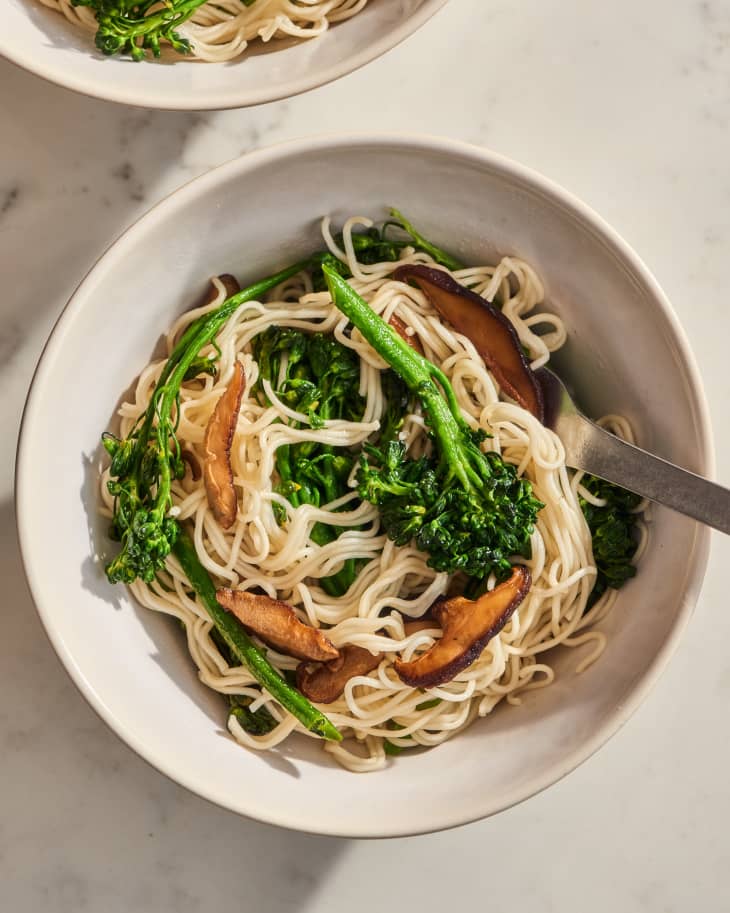 If you adore the creamy savoriness of fettuccine Alfredo, consider adding Vietnamese garlic noodles to your repertoire. Called mì xào tỏi, this longstanding Viet-American favorite got its start in the late 1970s at a San Francisco restaurant called Thanh Long, where it's served with roasted crab and giant prawns. Its popularity has grown so much in the Bay Area that today you can order it with barbecued brisket, fried chicken, and gumbo. I've even spotted garlic noodles on the food trucks and pop-up menus. That said, I prefer to savor garlic noodles without distractions to fully enjoy all the butteriness, sweet garlic pungency, and alluring umami flavors that keep me coming back for more. Here, I'm sharing one of my favorite preparations: garlic noodles with mushrooms and Broccolini, which makes for a quick, healthyish weeknight meal.
Get the recipe here.
---
2. Crispy Quinoa Patties
These simple crispy quinoa patties are so versatile. They're a great meatless option that even meat-eaters will love. Play around with your favorite vegetables and spices. Makes great leftovers! Serve them warm over salads, serve them warm in pitas (falafel style) with creamy sauce and greens, layer them into a sandwich with avocado and cheese, or even simply drizzled with hot sauce. If you're trying to limit your meat, these are wonderfully healthy Chili Side Dishes options. I also love my meatless black bean burgers, corn fritters, and pumpkin chili too!
Get the recipe here.
---
1. Roasted Broccoli with Chili Lime Dressing
Roasted Garlic Parmesan Shrimp and broccoli is a fast, flavorful, and totally fuss-free weeknight dinner! Say hello to the ULTIMATE dinner recipe. This garlic parmesan shrimp checks all the boxes for us. It's quick and easy to make AND clean up, positively pescatarian, gluten-free, and grain-free (which honestly, I need more of these recipes in my life!), and just overall one of those rockstar sheets pan suppers. It has all the ease of my Honey Garlic Sheet Pan Shrimp and Broccoli but with a lightened-up vibe. The recipe yields 4 servings but from time to time, my husband will each scarf 2 servings and call it a day! To round out the meal, serve this sheet pan shrimp up as a main dish alongside a leafy green salad or baked potato.
Get the recipe here.
---
Suggested Recipes You May Like:
Meals Under 200 Calories
Keto Air Fryer Recipes
Chocolate Dessert Recipes
Chia Seed Recipes
Snacks For Breastfeeding Recipes
Brunch Recipes
High Protein Salad Recipes
Peaches Recipes
Weight Watchers Air Fryer Recipes
High Protein Vegan Meals
Protein Ice Cream Recipes
Fruit Dessert Recipes
Weight Watchers Recipes
Banana Dessert Recipes
Ground Chicken Recipes
Margarita Cocktail Recipes
BBQ Chicken Side Dishes
---
If you like this article about "chili side dishes", please share this with your friends on Facebook and Twitter. Also, you can subscribe to my blog to get all the latest articles first on your mobile.