Of course, we love burgers, hot dogs, and fireworks. But if we're being honest, come July Fourth, we're most excited about piling our plates high with delicious 4th of July side dishes (and then going back for seconds). From crunchy salads and smoky beans or baked beans to gooey mac and cheese and fresh corn or grilled corn on the cob, here are 21 4th of July side dishes that deserve a spot on your table. These fourth of July side dishes are so good you'll want to make them all summer long. From salads to veggies, this will be the best Independence Day yet. While these colorful sides might not be the main event, they'll add oomph to any celebration.
---
21. Cowboy Caviar Dip
This Cowboy Caviar is wonderfully fresh, healthy, simple, and loaded. It's popular for good reason and we make this salsa all year long. It makes a big batch so it is an ideal potluck or party appetizer. Cowboy Caviar, also known as "Texas caviar," is a salsa appetizer. It's like a Pico De Gallo salsa, but more exciting because it's beefed up with beans, avocado, and corn. This dip/salsa is unique because it has a vinaigrette-style dressing (we use Italian dressing to keep it super simple). We always serve Cowboy Caviar with tortilla chips as an appetizer but it can be served as a topping for beef tacos, burritos, nachos, or served as a salad. My sister and I often skip dinner and just make a big batch of this bean salsa in the evening.
Get the recipe here.
---
20. Bacon & Spinach Orzo Salad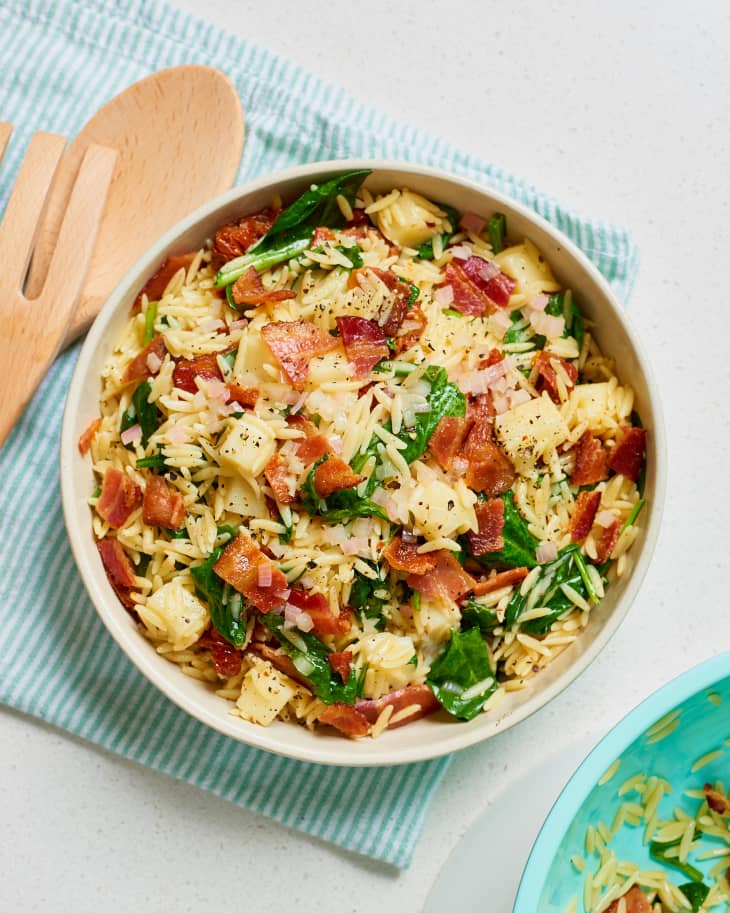 l will be honest with you: I like to be the person at a party who brings a dish that people can't stop talking about. There's a good chance you feel the same way. This recipe is here to help you embrace that feeling and make it your reality all summer long. Inspired by classic pasta salads, it makes a couple of simple changes that deliver a huge reward. Orzo takes the place of larger-shaped pasta, and once it's partnered with wilted spinach, sun-dried tomatoes, and Asiago, the whole thing is gilded with a warm, sweet, and tangy Bacon Vinaigrette. For a better dressing to make your orzo salad stand out, start with your skillet. You'll need it to cook up the crispy bacon, but that's not even the best part. The rendered bacon fat is whisked with a shallot, tangy white wine vinegar, and a spoonful of honey for a rich and flavorful, warm vinaigrette.
Get the recipe here.
---
19. Rainbow Vegetable Skewers
Raise your hand if you've ever attempted to grill a veggie skewer and totally burned it. (Guilty.) That's because if you're cooking a bunch of different vegetables on the same kebab, they'll cook unevenly and the smaller, thinner veggies will be done faster. These rainbow vegetable skewers contain one ingredient each, so they'll grill to perfection. Best of all, they're ready in under an hour.  If you use wood or bamboo skewers, soak them in water for 10–20 minutes before adding the vegetables. This will help prevent the skewers from burning. This recipe is also super customizable: Other vegetables and fruits that grill well include mangoes, peaches, pineapples, grapes, mushrooms, and eggplant. you Can visit also the post on vegan rainbow recipes which is great for meal prep and for all vegetarians.
Get the recipe here.
---
18. Mustard Dill Potato Salad (no mayo)
The bold flavor of dijon mustard teams up with earthy dill in this no mayo, vegetarian potato salad recipe. With textures ranging from creamy to crunchy, this salad makes for the perfect quick and easy side dish. Here's a quick and easy potato salad recipe that's perfect to make for your next barbecue, potluck, or picnic. It takes less than 30 minutes or is ready in 30 minutes to make and it's lovely to make ahead of time too. I hope you enjoy this recipe for Mustard Dill Potato Salad! In addition to the potatoes, I've included fresh, spicy, crunchy, sliced red radishes, sweet diced celery, and finely diced red onions, which have that pleasant slightly astringent bite. If you don't like the bite, substitute with green onions.
Get the recipe here.
---
17. Strawberry Shortcake Kabobs
These strawberry Shortcake kabobs are your ticket to becoming a backyard-barbecue legend, perfect for 4th of July side dishes any other time you get the hankering to stick shortcake cubes and fruit on a skewer, drizzle with white chocolate and eat yourself sick. You have been tasked with bringing one of the easiest possible dishes to your friends' picnic: fruit. I know, it sounds like nothing special. But, when you arrive waving strawberry and shortcake cubes on a skewer in one hand, and a Strawberry Shortcake kabob plate in the other, the adults are wowed. The kids are delighted and immediately begin scarfing fruit instead of chips and mini cupcakes.
Get the recipe here.
---
16. Patriotic Stuffed Strawberries
Patriotic Stuffed Strawberries are an easy dessert made with fresh strawberries, filled with cream cheese frosting, and topped with blueberries. The perfect dessert to celebrate the 4th of July side dishes! This easy dessert is ready in no time and is a healthier alternative to many sweets. Red, White, and Blue Patriotic Strawberries are not only festive and perfect for July 4th celebration, but they are also super easy to make and a light dessert to have on a hot summer day! During Independence Day, you want to spend as little time as possible in the kitchen, and rather celebrate it with friends and families. Therefore, this sweet treat is the perfect choice to go with!
Get the recipe here.
---
15. Macaroni Salad
With simple ingredients and a homemade creamy dressing, this Macaroni Salad with Egg is truly a tried and true recipe. Perfect for summer potlucks and great for making in advance. Is there anything that says "summer potluck" quite like a classic macaroni salad? From the time I was little, this salad with elbow macaroni, egg, and a creamy dressing has been a staple at every potluck or summer BBQ. Sometimes we were the guests arriving with a heaping bowl, and sometimes it was someone else bringing it, but it was always there. Since it's a great 4th of July side dishes to make in advance, this macaroni salad with egg fits perfectly into a lazy summer day schedule.
Get the recipe here.
---
14. Asparagus Chickpea Quinoa Salad
This Asparagus Chickpea Quinoa Salad with feta cheese and a simple lemon vinaigrette are perfect for spring. It is fresh, simple, healthy, and perfect for lunch or dinner! I don't know about you, but I am ready for spring. Sunshine, warmer days, and fresh food! I made this simple Asparagus Chickpea Quinoa Salad and it definitely made my day brighter and more delicious. To this quinoa salad, I add roasted asparagus, chickpeas, green onion, feta cheese, and a simple lemon vinaigrette. The flavors scream spring and complement each other so nicely. I love making this salad during the springtime when asparagus is in season.
Get the recipe here.
---
13. Buffalo Chickpea Salad Celery Sticks
A quick healthy lunch with a serving of vegetables packed with protein! Buffalo Chicken Celery Sticks are a perfect low-carb option! I knew I needed to cut out some carbs, but I was craving our Buffalo Chicken Salad Sandwiches like crazy! I decided to serve the chicken salad on celery sticks and the flavor combination was delicious! This will be a meal I'll be eating long after the baby comes. We love serving ours on celery sticks, but you could put this on rolls too for a quick lunch or meal. You could also cut your celery sticks a little smaller and serve these 4tu of July side dishes as a delicious appetizer or snack. We suggest using cream cheese at room temperature for this recipe. It will help you avoid any clumps of cream cheese in your salad. You could also whip your cream cheese or sour cream, buffalo, and ranch together for a more creamy salad.
Get the recipe here.
---
12. Italian Potato Salad with Green Beans, no Mayo
This easy-to-make creamy Italian Potato Salad with green beans will quickly become your favorite summer potluck recipe. You are going to love this no-mayo potato salad! There is no better time than right now to make this summer fresh potato salad or summer squash as green beans and cherry tomatoes are now in full swing. Without a doubt, this is the perfect potato salad! Not only is it great tasting, but it is so convenient! It can be made ahead of time and left on the counter for the flavors to develop or kept in the refrigerator and then brought to room temperature before serving. You might be surprised to learn that there is no mayonnaise in this flavorful but light-tasting salad… 
Get the recipe here.
---
11. Red, White & Blue Caprese Salad
This red, white and blue Patriotic Caprese salad is full of fresh tomatoes, blueberries, mozzarella, and basil. A completely unexpected twist on classic Caprese salad and totally perfect for celebrating Memorial Day or the 4th of July side dishes. Blueberries add a sweet bite to this savory salad that compliments the balsamic vinegar so nicely. Plus it wouldn't be a patriotic, Independence Day-worthy salad, without star-shaped mozzarella! It only takes a few extra minutes to cut stars using a mini cookie cutter. Next, drizzle generously with balsamic and olive oil, tear some basil, and season with salt and freshly ground black pepper. Red, white, and blueberry Caprese in no time. 
Get the recipe here.
---
10. Italian Potato Salad with Tuna
A super simple Italian Tuna Potato Salad made with baby potatoes, red onion and capers tossed an easy olive oil and fresh lemon dressing. It's a light and healthy lunch or 4th of July side dishes that are ready in 15 minutes or less! Italian tuna potato salad is something that's incredibly simple and easy to make with a light and healthy dressing that's fresh and zingy. This is an easy salad to whip up during the summer for eating outdoors (picnics, BBQs, etc) but it's something I love to make all year round as a quick, easy and healthy lunch that won't leave you hungry afterward.
Get the recipe here.
---
9. Mediterranean Couscous Salad with Tomatoes with Feta & Tomatoes
This delicious Mediterranean Couscous Salad combines couscous with cucumber, red onion, tomatoes, garbanzo beans, Kalamata Olives, and feta cheese all drizzled with an easy three-ingredient lemon vinaigrette. I love to serve it for a light summer lunch or dinner. This simple salad is the perfect accompaniment for Grilled Marinated Chicken or grilled meats, Lemon Pepper Baked Cod, or Garlic Lemon Butter Seared Scallops. Feta cheese really goes well with this salad because of its salty, tangy, and rich flavor. However, I always get a few readers that just do not like Feta Cheese.  There are other alternatives like queso fresco and Cotija. Both of these cheeses are mild crumbly Mexican cheeses that are widely available at most grocery stores.  It will no longer be an authentic Mediterranean dish but it will still be delicious.
Get the recipe here.
---
8. Pickled Green Olive and Potato Salad
In this post, I am sharing a wonderful Green Olive Potato Salad Recipe. It is so delicious and y'all are gonna love it! I was introduced to potato salad made with green olives by my mother. I'll never forget trying this amazing version of potato salad. The flavors are so wonderful! It's a great alternative to a classic Southern-style potato salad with pickles. Like all potato salad 4th of July side dishes, I think this one is best the next day after all of those ingredients and flavors have mingled together. To be honest, it's been a minute since I last had this olive potato salad. Well, a couple of weeks ago I really got a taste for it and had to make a batch. I knew that I wanted to share the recipe with y'all too.
Get the recipe here.
---
7. Red, White Blue Mac and Cheese
Red, white and blue mac and cheese?!!?  Yes.  Yes, it is! Whether you are celebrating Memorial Day, July 4th, or a Wednesday, it can be fun to have red, white, and blue food to celebrate! We found a way to turn a favorite dish — macaroni and cheese — patriotic! Just follow these simple steps and you'll have this fun red, white, and blue mac and cheese dish to serve at your picnic!  Then, finish off your meal by serving this super easy Patriotic Ice Cream cake (no baking required).
Get the recipe here.
---
6. Broccoli Salad with Bacon and Cranberries
This quick and easy Broccoli Salad with Cranberries and Bacon is a Spring and Summer staple for parties, gatherings, barbecues, and picnics galore! After playing around with #ALLTHEVARIETIES of broccoli salad, I'm embracing all things Southern and diving into the classic picnic and potluck staple and loving every minute of it! It's a mix of fresh and creamy, sweet and savory, tender and crunchy, and translates to a flavor and texture celebration of sorts. It's no wonder this dish is so popular! My go-to broccoli salad strategy is to toss the salad in a small portion of the dressing before chilling, then dress a bit more after the salad has had some time for the flavors to marinate and meld. I also like to add the bacon and sunflower seeds right before serving for maximum crunch factor – SO GOOD!
Get the recipe here.
---
5. Red, White and Blue Cheesecake Salad
Red, White, and Blue Cheesecake Salad come together so easy with fresh fruit and a rich and creamy cheesecake filling! Make it tonight. I don't know about you, but I love my coffee so I always have creamer in the house. I have found this to be an amazing convenient ingredient in cooking and baking sweets. So, of course, when I started thinking about creamy fruit salad I thought of coffee creamer (but you can use cream too. With summer right around the corner and fresh berries calling to me at the market, I could think of nothing more perfect than a berry banana fruit salad.
Get the recipe here.
---
4. Quinoa Sweet Corn Edamame
Given that I am still pretty tired and weak from last week's ordeal, I wanted to keep today's recipe simple, healthy and bursting with flavor, and I think this Quinoa Sweet Corn Edamame Salad or corn salad does the trick. It's vibrant, full of veggies, and comes together in a flash. Frozen sweet corn and shelled edamame make this even quicker, and my super easy lemon mustard dressing really gives this a tangy kick. This salad is a plant-based powerhouse. It's an excellent 4th of July side dishes and gives you a boost of both protein and nutrients. If you want to make it more hearty, add in some avocado chunks.
Get the recipe here.
---
3. Greek Yogurt Fruit Bites
Frozen Greek Yogurt Fruit Bites are a fun treat for adults and kids, especially in the warmer months. Greek Yogurt is mixed with fresh fruit and honey and frozen into a bite-sized snack that is packed with protein! Today I am excited to share one of my favorite 4th of July side dishes that work well as a dessert or snack. These Frozen Greek Yogurt Fruit Bites have protein in them, making them a nice snack option, but also work well as a nice treat after dinner. We especially like making these in the summer months. These are the perfect summer snack for kids and adults too. I like to make a variety of these using different fruits.  Sometimes I will try strawberries and blackberries or maybe just try one kind of berry, like raspberries. If your kids feel that the Greek yogurt is too tart in the yogurt bites add additional honey to sweeten them up.
Get the recipe here.
---
2. Gluten Free Crab Rangoon Dip
One appetizer you can find on just about any Asian restaurant menu is a version of Crab Rangoon or Crab Wonton. If you don't know about these little bites of heaven, they are basically crab mixed with cream cheese and seasonings, wrapped in a wrapper, and deep-fried until golden. They are bliss. Today I have taken all of the hot, cheesy, crab deliciousness that is Crab Rangoon and turned it into this decadent Crab Rangoon Dip. And, to get the complete crab rangoon feel, the "chips" are made from wonton wrappers. 
Get the recipe here.
---
1. Mexican Pasta Salad
Mexican Pasta Salad – seriously delicious! Easy to make and great for a crowd pleasing! Pasta, red onion, green onion, corn, black beans, tomatoes, and cilantro tossed in a quick dressing of ranch dressing, salsa, and cumin. Add chicken, ground beef, ham, or bacon to the leftovers and turn this side into a main dish! YUM! Pasta salad is one of my go-to recipes for potlucks and cookouts. It is easy to make and feeds a crowd pleaser! This Mexican Pasta Salad is seriously delicious! We ate this for lunch last week and have it on the menu for our 4th of July cookout. I can't wait to have this again. Pasta, black beans, corn, onions, and peppers are tossed in a quick salsa-ranch dressing. SO good! You could even add some chicken or ground beef to the mixture and have a quick main dish!
Get the recipe here.
---
Suggested Recipes You May Like:
Gingerbread Recipes
Keto Air Fryer Recipes
Chocolate Dessert Recipes
Chia Seed Recipes
Snacks For Breastfeeding Recipes
Brunch Recipes
High Protein Salad Recipes
Peaches Recipes
Weight Watchers Air Fryer Recipes
High Protein Vegan Meals
Weight Watchers Recipes
Ground Chicken Recipes
Margarita Cocktail Recipes
BBQ Chicken Side Dishes
Protein Ice Cream Recipes
Fruit Dessert Recipes
---
If you like this article about "4th of july side dishes", please share this with your friends on Facebook and Twitter. Also, you can subscribe to my blog to get all the latest articles first on your mobile.