Whether you're throwing a household New Year's Eve bash or staying up late to watch the ball drop in Times Square, you'll need some fun and festive New Years dinner ideas to get you ready for the night ahead. No matter your New Year's Eve food traditions, we've got something for you. Feeling fancy? Try a spotlight-stealing steak dinner crowned with a pat of butter or a whole-roasted salmon recipe that doubles as a stunning centerpiece. Start the year off right with colorful, filling salads, or celebrate your cravings for carbs, carbs, and more carbs. We are here with 21 amazing New Years dinner ideas which you are gonna love to make. 
---
21. Chicken And Waffle Sliders
Chicken and waffle sliders are juicy, delicious, and easy to make with a few simple ingredients and perfect for weeknight dinners or holiday or new years dinners for your whole family. 
Get the recipe here.
---
20. Sheet Pan Steak and Fries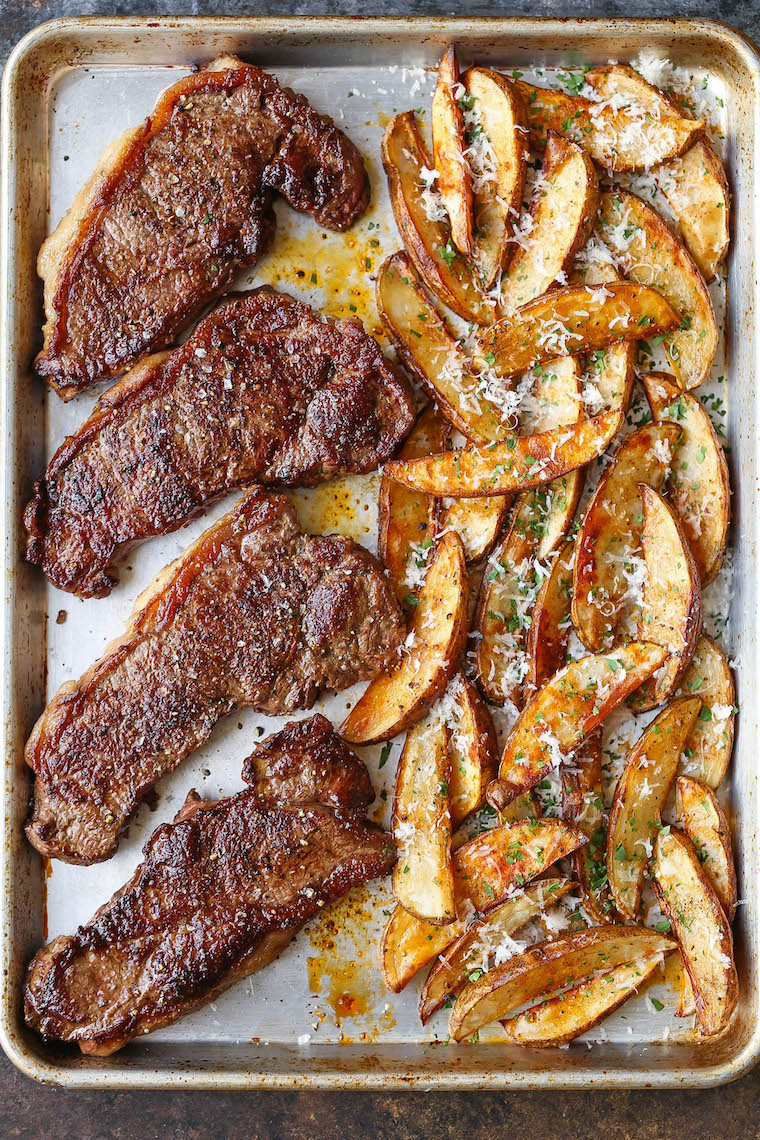 Sheet pan steak and potato fries are the perfect dinners for the new year's celebration. Easy to make this recipe with a few simple ingredients and ready in just 30 minutes or less.
Get the recipe here.
---
19. Roasted Carrots 
Oven Roasted Carrots are easy to make and need just minutes of prep! Fresh carrots are tossed with olive oil, salt, and pepper and roasted until tender and golden for a family favorite side dish! As much as I love glazed carrots and steamed carrots, this recipe for savory roasted carrots is especially simple. Seasoned with olive oil and a sprinkle of salt and pepper, the carrots' natural, slightly sweet flavors really shine through. This is also a great base recipe for you to play with if you'd like to get more adventurous with your roasted carrots. If you prefer these to be sweeter glazed roasted carrots, add a tablespoon or so of brown sugar or even honey to make Honey Roasted Carrots. 
Get the recipe here.
---
18. Make Ahead Roasted Garlic Mashed Potatoes
These roasted garlic mashed potatoes are light and fluffy, rich and flavorful! And this recipe makes enough to feed an army. So, mashed potatoes… My absolute favorite thing aside from chocolate! And I'll admit it, I'm a mashed potato snob! Don't even bring up boxed stuff. Roasted Garlic Mashed Potatoes have been a holiday dinner staple in my family for years.
They make such a special side dish for Thanksgiving and Christmas, they almost always seem to find their way onto our menu. This make-ahead option is particularly convenient for potlucks, entertaining, or big holiday meals when you don't want to be stuck in the kitchen at the last minute. You can assemble them in advance and then just pop them in the oven about 30 minutes before you're ready to serve them!
Get the recipe here.
---
17. Crispy Brie-Stuffed Mushrooms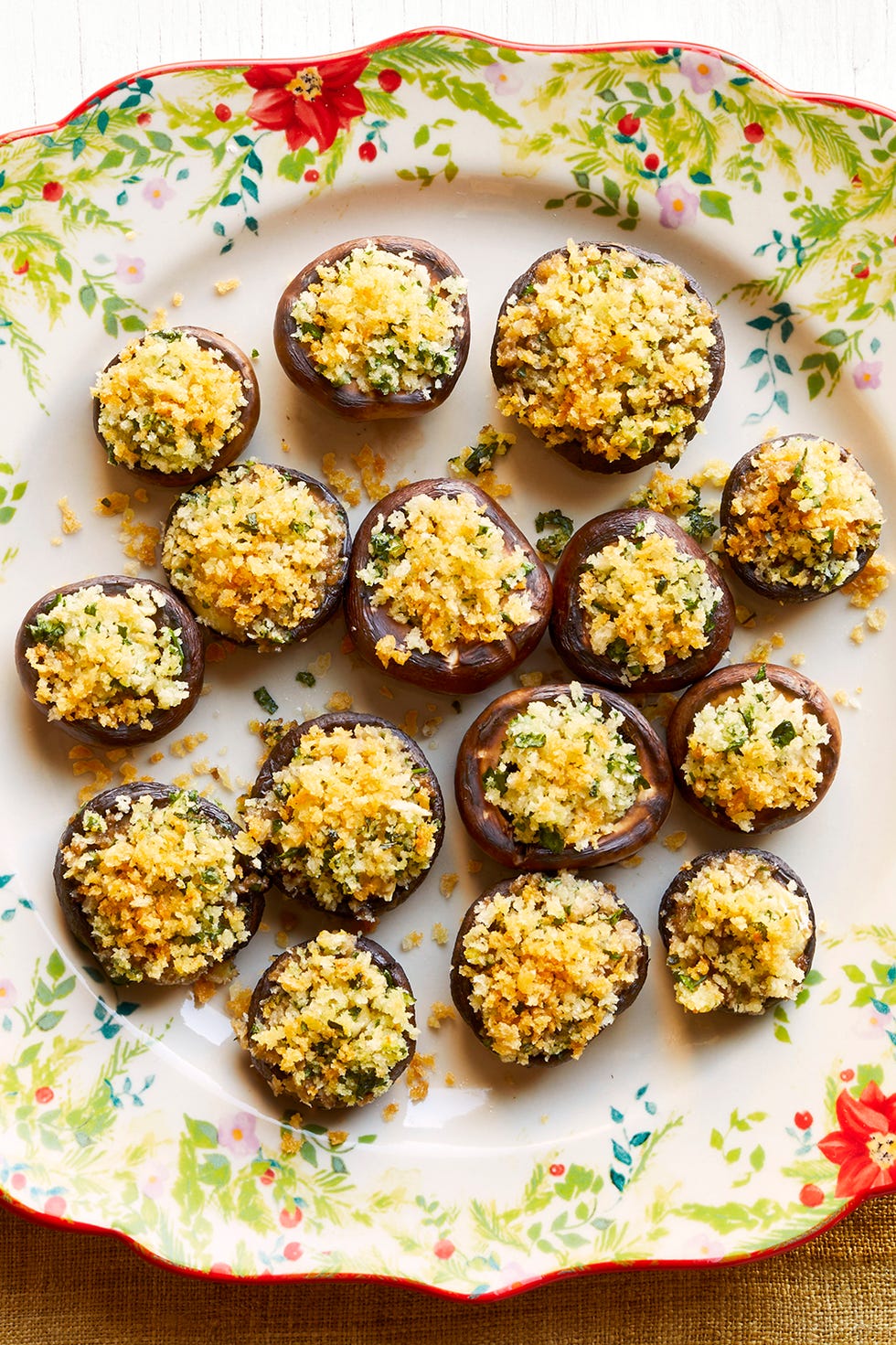 Brie stuffed mushrooms are the ultimate delicious appetizer for any occasion! Not only are these stuffed mushrooms SUPER tasty, but this simple recipe also makes mushrooms taste so good! Even non-mushroom lovers can't resist!
These Brie stuffed mushrooms are mushroom caps filled with Président® Brie, breadcrumbs, and parsley, then baked to golden brown perfection. An easy and elegant party snack that can be assembled ahead of time! At a time of year when we're already incredibly busy, the last thing that we need to do is add stress to our schedule by fussing over complicated dishes. Instead, serve a crowd-pleasing and SIMPLE appetizer at your next party! Brie stuffed mushrooms are always a great addition to any menu! It's one of the most delicious New Years Dinner ideas.
Get the recipe here.
---
16. Garlic Butter Steak and Potato Foil Packets 
DELICIOUS steak and potatoes seasoned with garlic and butter, then cooked inside foil packets. This easy foil packet recipe can be cooked on the grill OR in the oven. Perfect for a family dinner or a backyard get-together. Perfectly tender, garlicky, and juicy steak bites and potatoes prepared in foil packets. 30-minute meat-and-potatoes dinner can't get easier than this! I tested this steak and potato foil packs recipe with flank steak, ribeye, and top sirloin. In my world, top sirloin worked best for these foil packs. It works with the other two, as well, but top sirloin won because it's a good steak for grilling and it has more flavor. This will be one of your favorite New Years Dinner ideas in no time. 
Get the recipe here.
---
15. Popcorn Chicken
Bite-sized pieces of chicken that are sure to be a family favorite. I love to serve it with homemade mashed potatoes and green beans. Crispy, Delicious Popcorn Chicken Is A Family Favorite!! Not Only Is It Easy To Make But It's A Hit With The Entire Family Making Dinner A Cinch! If you're looking for an easy dinner idea – look no further! Popcorn Chicken is an easy recipe that the whole family loves. Serve it with some Crockpot mac and cheese, pasta salad, or even fruit salad for a simple meal! It's one of my best favorite New Years Dinner ideas and trust me you are gonna love it. 
Get the recipe here.
---
14. Orange Chicken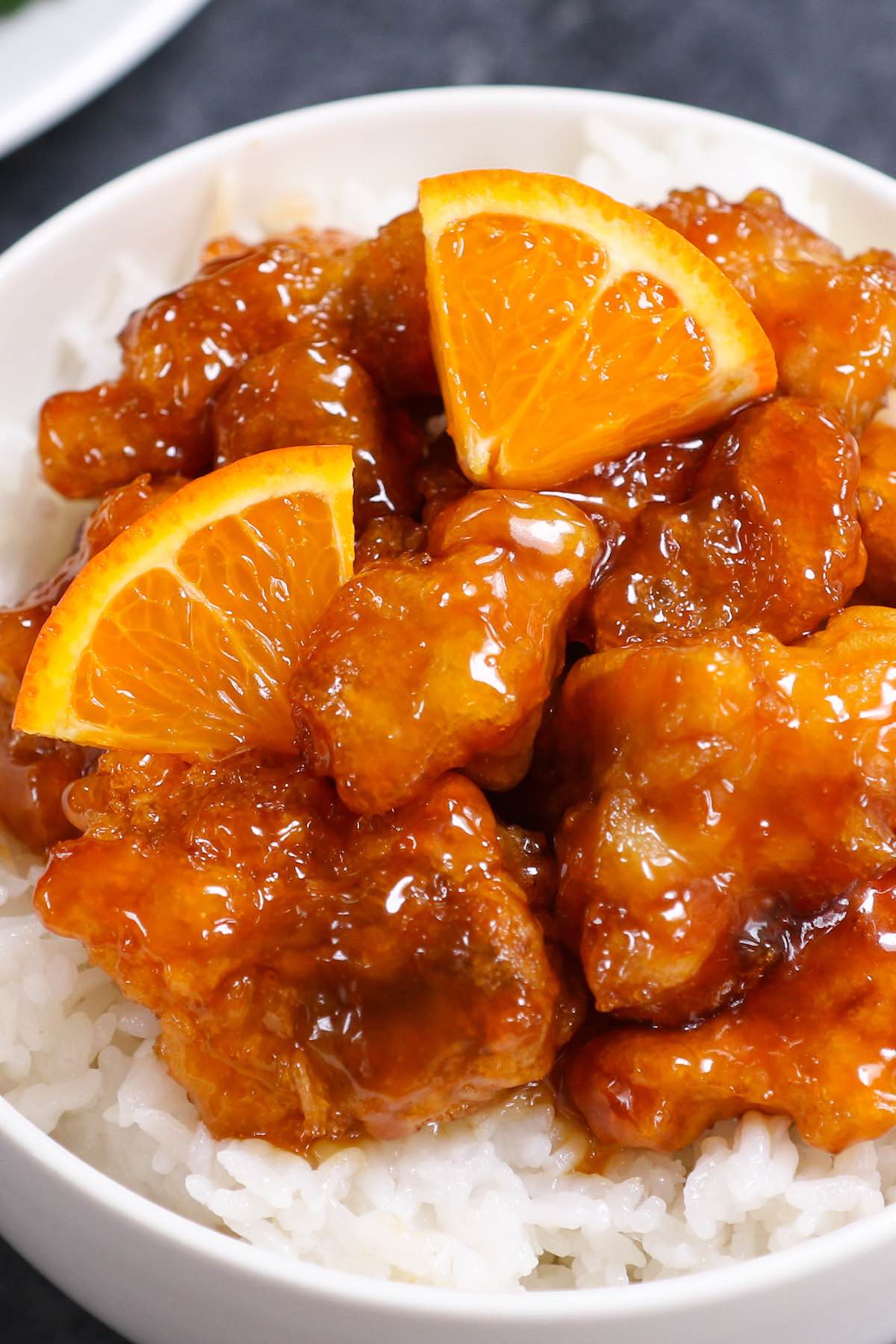 Get the best of Chinese orange chicken takeout at home! This recipe is loaded with sweet citrus flavors, sesame seeds, and scallions. It's surprisingly easy to make. All you need is a large skillet. And don't skip the orange zest in the sauce—it's the most important piece! If I'm ordering Chinese takeout, you better believe there will be at least one order of orange chicken in the bag! I love that lightly fried chicken, coated with a sweet citrus sauce—and it's actually one of the easier Chinese-American takeout dishes to make at home! If you are an orange chicken fan, then today's recipe is a must-try.
Get the recipe here.
---
13. Grilled Pork Tenderloin 
I like pork tenderloin and I cannot lie. (Sorry, couldn't resist.) What's not to love though, really? In my opinion, it's one of the easiest pieces of meat to grill (or to put in a slow cooker, for that matter), and it's hard to mess up unless you undercook it. But I'll make sure you don't let that happen. Yes, you can achieve unbelievably juicy grilled pork tenderloin in under 15 minutes! Pair this easy grilling recipe with grilled vegetables for a healthy and filling dinner. The cider went perfectly with the grilled pork tenderloin I was cooking at the time. As the name implies, pork tenderloin becomes unbelievably juicy and tender once seared over a hot and high flame. Like, giving steak a run for its money, juicy and tender! Plus it grills up in under 15 minutes. 
Get the recipe here.
---
12. Baked Shrimp Scampi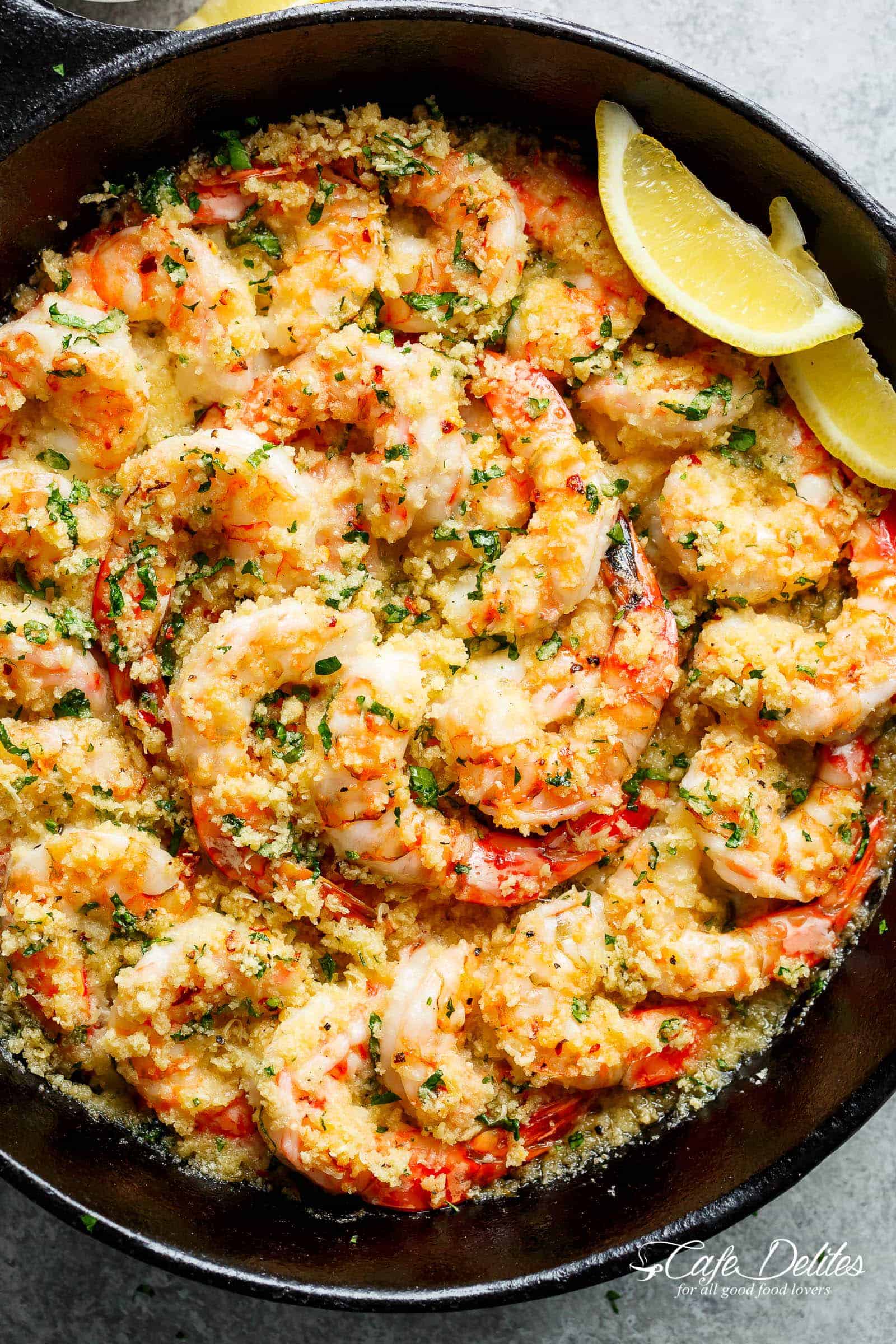 Oven-Baked Shrimp Scampi topped with flavourful golden, buttery, garlic parmesan breadcrumbs. The easiest way to cook shrimp in your oven in just 15 minutes! Serve as an appetizer OR a light meal with salad, garlic bread, or pasta. Perfectly crunchy, delicious, and buttery…you won't be able to stop! This recipe contains a good amount of buttery flavor without being in complete fear of busting out of your jeans. Also, I've cut a couple of steps out of the usual recipe, creating something a little easier for those of us finding ourselves out of breath in the kitchen. It's one of the most delicious New Years Dinner Ideas ever. 
Get the recipe here.
---
11. Skillet Lasagna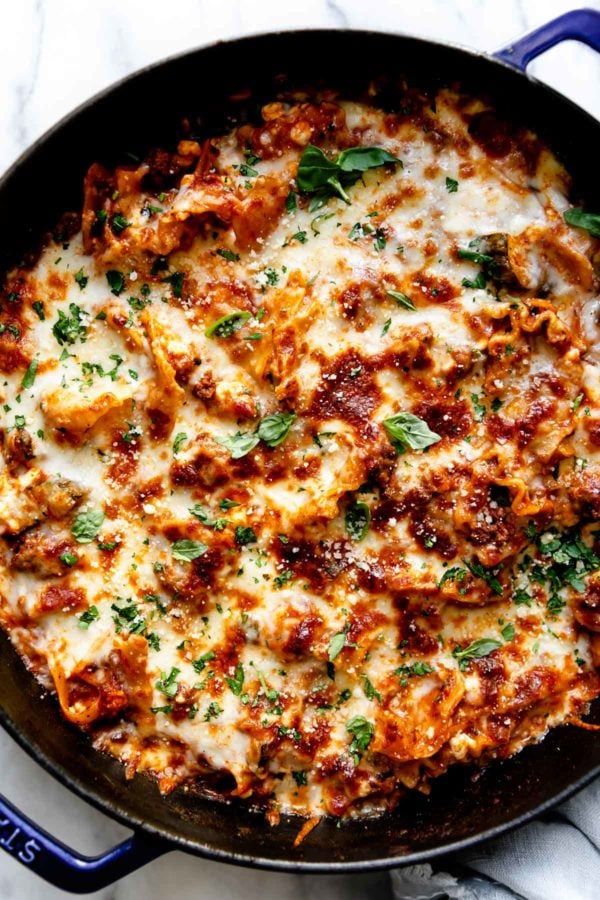 With our simple recipe for Easy Skillet Lasagna, you can enjoy this comfort food any night of the week.  Everything cooks in just 30 minutes and all in one skillet, so cleanup is easy, too. We have given you an easier way to cook lasagna. While cooking this lasagna recipe is simple, our Easy Skillet Lasagna recipe uses traditional ingredients like ricotta, mozzarella, and ground beef for authentic lasagna flavor.  There is no need to cook the lasagna noodles ahead of time.  Just break them into pieces so they fit easily in the skillet, then simmer to all dente perfection in the sauce, absorbing all the flavor to make this skillet lasagna extra delicious.
Get the recipe here.
---
10. Charcuterie Board
Everything you need to know to make the perfect Charcuterie Board including food ideas, recipes, and pro tips for assembling and displaying your charcuterie board for any season or occasion. This is the easiest way to serve snacks or appetizers in a fun and festive way! Charcuterie boards are all the rage and I totally understand why! They are easy, require little to no cooking, and they are so fun!
The term "charcuterie" refers to the preparation of cured meats, like prosciutto, bacon, salami, etc., but these days its original definition seems to be broadening to include all sorts of snacks presented on a large board or tray. Besides cured meats, they typically also include a variety of cheeses, crackers, nuts, fruits and vegetables, and dipping sauces or spreads. 
Get the recipe here.
---
9. Roast Pork Shoulder
A super tender slow-cooked marinated pork shoulder or butt roast recipe that is amazing on its own, and also can be used in so many ways. One of my go-to dishes for casual crowd entertaining. You can make this recipe and others like it with a pork butt roast or Boston Butt pork roast, which are actually also from the shoulder area, a little further up, but essentially a similar cut of meat. 
When you slow cook pork shoulder in the oven, boneless or bone-in, you have a lot of flexibility, which is a delightful thing when entertaining. In fact, the cooking time at this low temp could be stretched by an hour or two, and the roast wouldn't be any worse for the wear.  So you can literally plunk it on the table whenever everyone is ready to eat. 
Get the recipe here.
---
8. Chicken Fried Steak with Jalapeno Bacon Gravy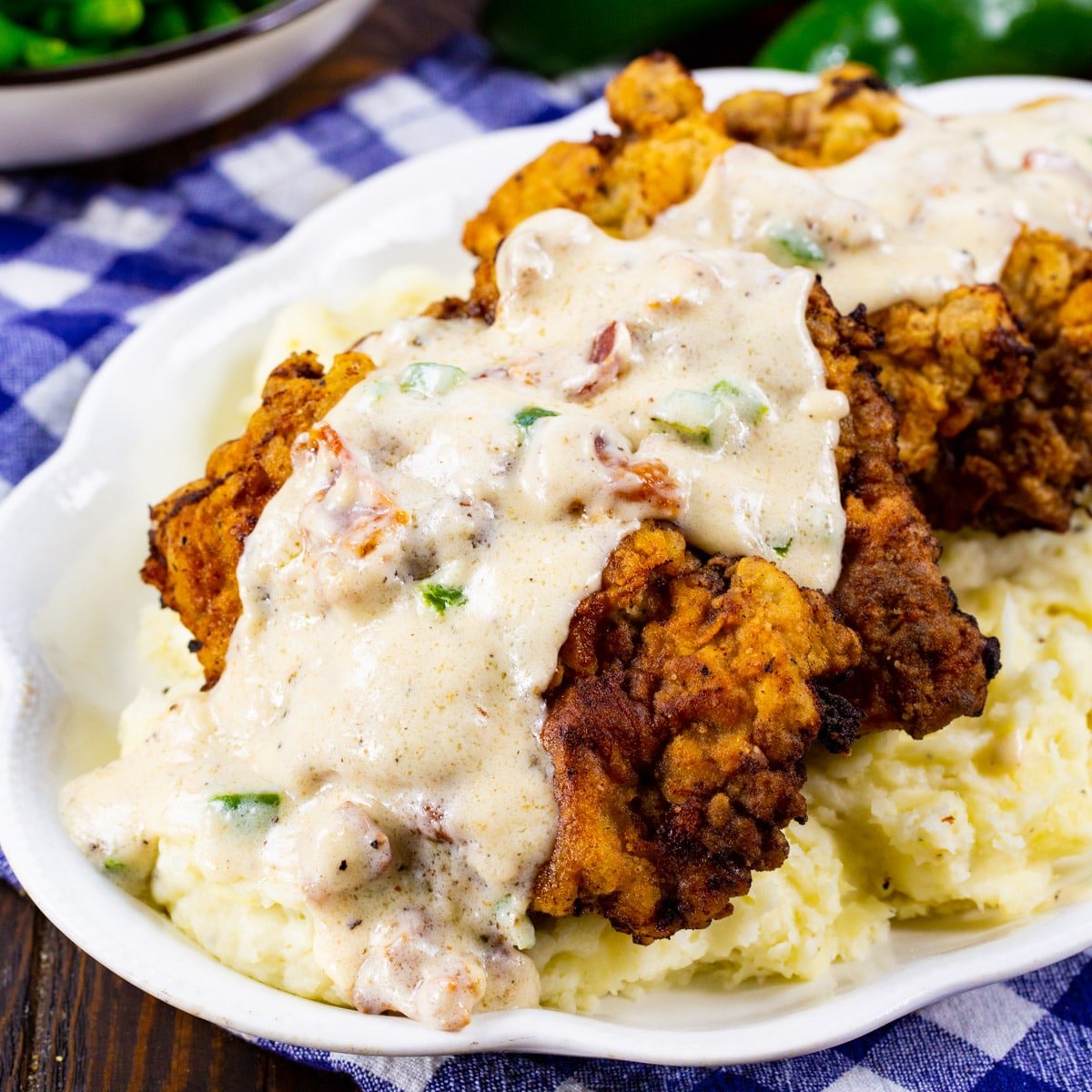 Chicken Fried Steak is made with cubed steak or round steak that has been tenderized. Cubed steak is my first choice because it is already tenderized and is inexpensive. Chicken Fried Steak is a great recipe for turning cheap meat into a delicious comfort food meal. The steak is typically coated in flour and/or cracker crumbs and fried until crispy.
The pan drippings and milk are used to make gravy. The gravy for chicken fried steak is pretty plain-tasting, but delicious nonetheless. I like it even better with diced jalapeno and crumbled bacon added. Just these two additions give a very different flavor profile to Chicken Fried Steak. It's one of the most delicious New Years Dinner ideas ever. 
Get the recipe here.
---
7. One Pan Pork Chops with Apples and Onions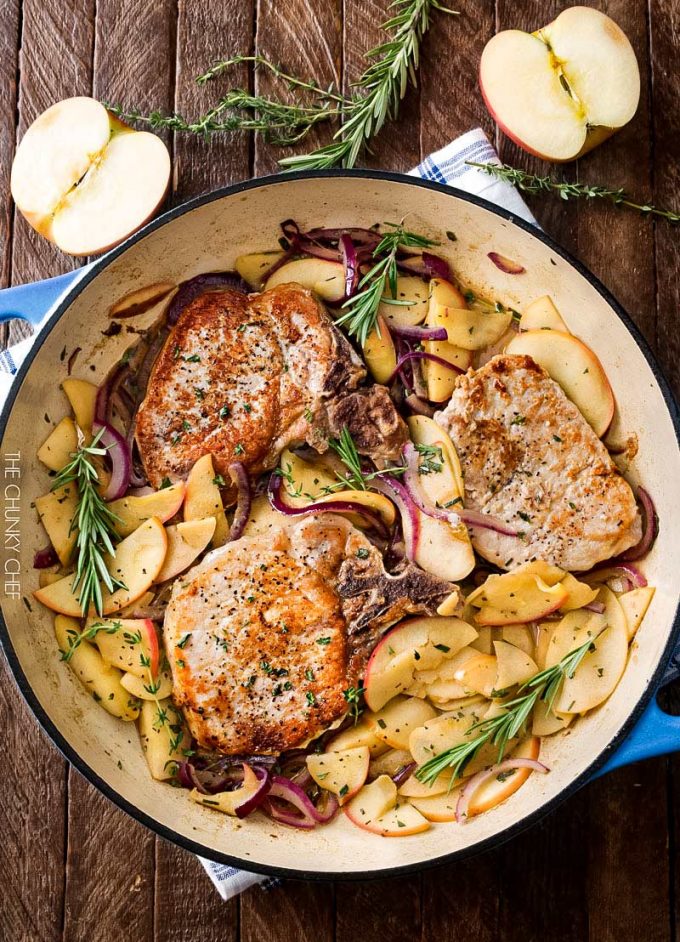 There's something so satisfying about cooking a meal in ONE pan.  You feel accomplished like you're working smarter, not harder… and there's the huge bonus… you only have to wash one pan!  I don't know about you, but I loathe doing dishes.  Some meals can seriously fill up your sink (and then some), so these one-pan meals are a nice change of pace. This pork chops with apples and onions dish is a deliciously light and flavorful meal that's perfect for Fall.  Plus, it's all made in One Pan! These pork chops have everything you love about a comforting Fall dish… mouthwatering, well-balanced flavors, are healthy yet hearty and are made in just ONE pan in 30 minutes. 
Get the recipe here.
---
6. Sweet Potato Tacos 
My love for tacos remains unchanged, and these tacos are as delicious as ever. This hearty taco recipe features spicy roasted sweet potatoes, black beans for protein, and a pretty spectacular avocado spread made with freshly toasted pepitas for texture and savory notes. Top them off with some salty crumbled feta, more toasted pepitas, and some crunchy pickled jalapeños (not shown, but highly recommended) and you have a well-balanced fall dinner.
These roasted sweet potato tacos feature spicy black beans and avocado-pepita dip. So delicious! This taco recipe is vegetarian (easily vegan) and gluten-free (see recipe notes for details). Recipe yields 8 to 10 hearty tacos, enough for at least 4 servings.
Get the recipe here.
---
5. Skillet Dinner Rolls with Garlic-Herb Butter
Are you looking for a one-pan side dish to go with your dinner menu? Say hello to the incredibly delicious, feather-light Garlic rolls that come together quickly and are a great addition to any meal. Made in a cast-iron skillet, these effortless rolls are the perfect accompaniment to any meal. There's nothing quite like freshly baked homemade skillet rolls right out of the oven. Trust me, while they are baking, the scent of these rolls will fill your home with an intoxicating smell that is downright heavenly and truly irresistible. It's so delicious and one of the best New Years Dinner ideas you are gonna love. 
Get the recipe here.
---
4. Lamb Chops With Mustard-Thyme Sauce
These Mediterranean pan-fried lamb chops can be cooked in a stainless steel skillet or in a cast iron pan.  The pan-searing process is very similar to how I cooked garlic lamb loin chops.  Your family will love the creamy mustard sauce texture and the savory flavor of lamb chops!  They will go great with green beans and bacon or with oven-roasted asparagus with bacon.
The best part about the sauce? It takes just 4 ingredients.  Garlic, fresh thyme, wine, and Dijon mustard. This combination produces the best sauce for lamb chops.  I used white wine, but you can definitely use red wine for the sauce.
Get the recipe here.
---
3. Green Bean Dry Curry And Coconut Tofu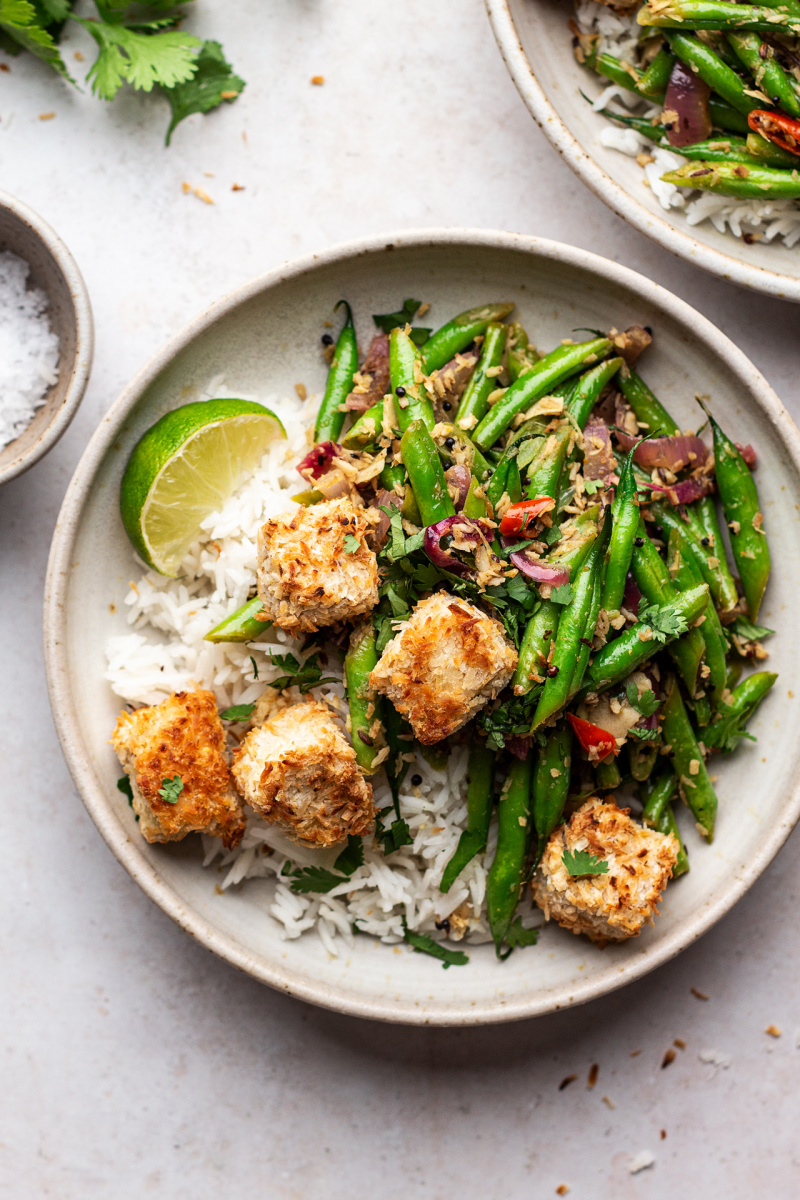 This dish, inspired by the Sri Lankan mallung is one that we've been enjoying a lot lately. I added coconut encrusted tofu, but it is a bit of a faff to make so, if you are in a rush, feel free to skip that component and replace the tofu with toasted cashews, for example. This simple dry curry makes for a delicious midweek dinner. It's essentially a stir-fry so it comes together really quickly.
The beans get stir-fried with spices first and then finish off cooking in a little bit of liquid. For an even more pronounced coconut flavor, you are welcome to use coconut milk instead of water at the end. The dish is lightly spicy, fragrant with spices and a splash of lime juice offsets the sweetness of toasted coconut beautifully. I love serving it with plenty of chopped coriander and a handful of toasted cashews instead of chunks of tofu if I'm after a quick meal. I hope you'll enjoy this dish. 
Get the recipe here.
---
2. Scalloped Potatoes and Ham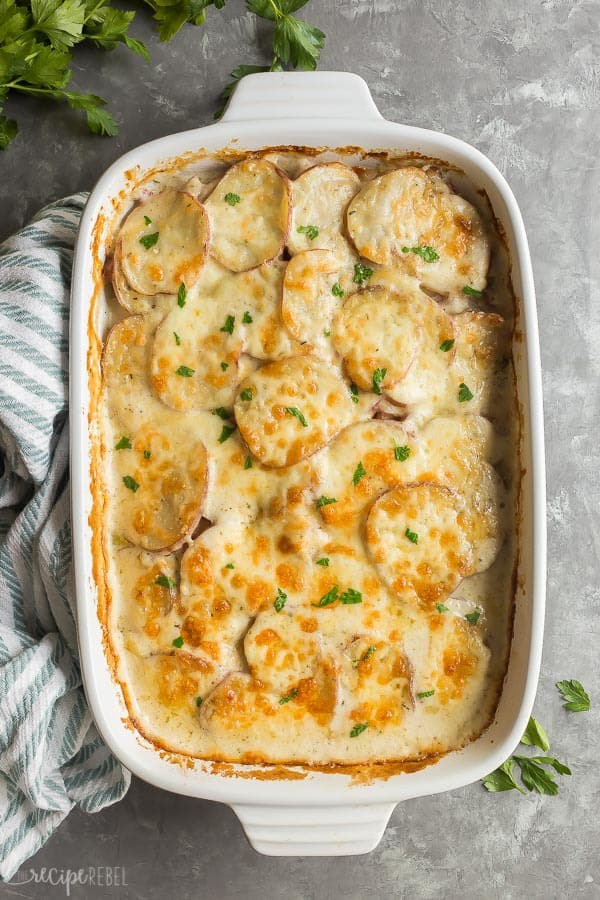 Scalloped Potatoes and Ham is the perfect pairing of meat and potatoes and a delicious twist on our favorite classic Scalloped Potatoes Recipe!  This potato casserole is a filling, family-pleasing dish that will help you use up any leftover ham. It's perfect alongside a homemade meatloaf or as an entree with a caesar salad! This scalloped potatoes and ham recipe is so basic, needing only a few main ingredients. Ham and scalloped potatoes are filling, we treat it like a dinner entrée. Creamy, starchy, and rich, scalloped potatoes with ham combine best with sides that are fresh and green or a side salad. Serve it with steamed broccoli or roasted green beans, lightly seasoned with a little balsamic vinegar or squeeze of lemon.
Get the recipe here.
---
1. Cumin Roasted Carrots with Tahini Dressing
Side dishes perplex me. It's like, create some food to complement this main portion of your meal, but make sure it's not too heavy or too light, and it absolutely can't overpower the star of the dinner show (which is usually some sort of protein). Hello, complicated. That's why side dishes always seem to get the boot. Who wants to spend time on a SIDE? Well now you can, because cumin roasted carrots with maple lime tahini dressing are the perfect side dish to any meat, with very little effort.
They are not just carrots. They are a powerhouse of flavor and texture. They're crispy, soft, charred, crunchy, moist, fresh, and a little rich. That's a lot to say for carrots. So what are you waiting for guys?? Let's make these 21 New Years Dinner ideas and celebrate your New year with friends and family. 
Get the recipe here.
---
Suggested Recipes You May Like:
Weight Watchers Dinner Recipes
New Year's Brunch Recipes
High Protein Low Fat Recipes
Fall Salad recipes
Christmas Cookie Recipes
Weight Watchers Recipes
Snacks For Breastfeeding Recipes
Low-Calorie Snacks
Fall Bread Recipes
High Protein Vegetarian Recipes
Keto Air Fryer Recipes
Christmas Dessert Recipes
Fall Cookie Ideas
High Protein Vegan Meals
Weight Watchers Lunch Recipes
Christmas Truffle Ideas
Fall Dessert Recipes
Meals Under 200 Calories
Christmas Dinner Ideas
---
If you like this article about "New Years dinner ideas", please share this with your friends on Facebook and Twitter. Also, you can subscribe to my blog to get all the latest articles first on your mobile.