Martini recipes are everywhere, and they come in a variety of flavors. Yet, it's important to remember that there is the martini, and then there are martinis. Quite often, the latter has little or no resemblance to the original other than the serving glass. The classic gin martini will always remain a favorite for many drinkers. It was the love for this drink (and its equally timeless cousins like the Manhattan) that spurred an entire movement—a separate martini culture within the broader cocktail scene. Here are 21 amazing martini recipes for y'all to enjoy your holidays with your family and friends. 
---
21. Pumpkin Spice Martini
An incredible fall or winter cocktail, Pumpkin Spice Martini is loaded with flavors from real Pumpkin, Pumpkin Pie Spice, Baileys, and Vanilla. It comes together in 5 minutes and is perfect for warm and cozy evenings during holidays! It is made using fall essentials like Pumpkin Puree, Pumpkin Spice, and Bailey's and is one of the perfect Martini recipes to get warm and cozy. Make this martini with pumpkin spice for your holiday get-together and house parties.
Get the recipe here.
---
20. Fresh Strawberry Martini
Blended strawberries with your favorite vodka? Sounds like berry bliss to me! Enjoy this Strawberry martini made with 4 simply delicious ingredients. Cheers! This delicious strawberry martini only has 4 ingredients, one of them being simple syrup. Did you know how incredibly easy it was to make simple syrup? Please don't ever buy it. Make your own simple syrup with this recipe. It's one of my favorite Martini recipes and holiday ideas ever. 
Get the recipe here.
---
19. The Gangster Martini
Don't like the traditional dry martini? This yummy martini recipe includes Tuaca, amaretto, and pineapple juice. I told you I was obsessed. After watching Breakfast at Tiffany's, I decided I was going to become a martini drinker as soon as I was old enough to drink. It's one of the best Martini recipes ever. 
Get the recipe here.
---
18. Christmas Martini Recipe
Looking for a memorable signature drink for the holidays? This Christmas martini is where it's at: sweet tart, drinkable and beautifully festive! For years the Poinsettia has been our go-to for the holidays, but this year we wanted to spring for something new. Turns out, a festive martini is the perfect fit for entertaining. It's easy to mix up and the color is beautifully brilliant from the cranberry juice. We have provided you with everything you need to know about this stunning holiday drink!
Get the recipe here.
---
17. White Chocolate Peppermint Martini
These pretty peppermint drinks combine the smooth taste of white chocolate with the spicy taste of peppermint, making them the perfect holiday Cocktail. It's a deliciously sweet and creamy cocktail with a peppermint twist. It's hard to believe that the holiday season is officially upon us. I don't know about you, but I'm always excited about this time of year. While I've already been spreading Christmas cheer, I thought today would be the perfect time to mix up this White Chocolate Peppermint Martini.
Get the recipe here.
---
16. Chocolate Martini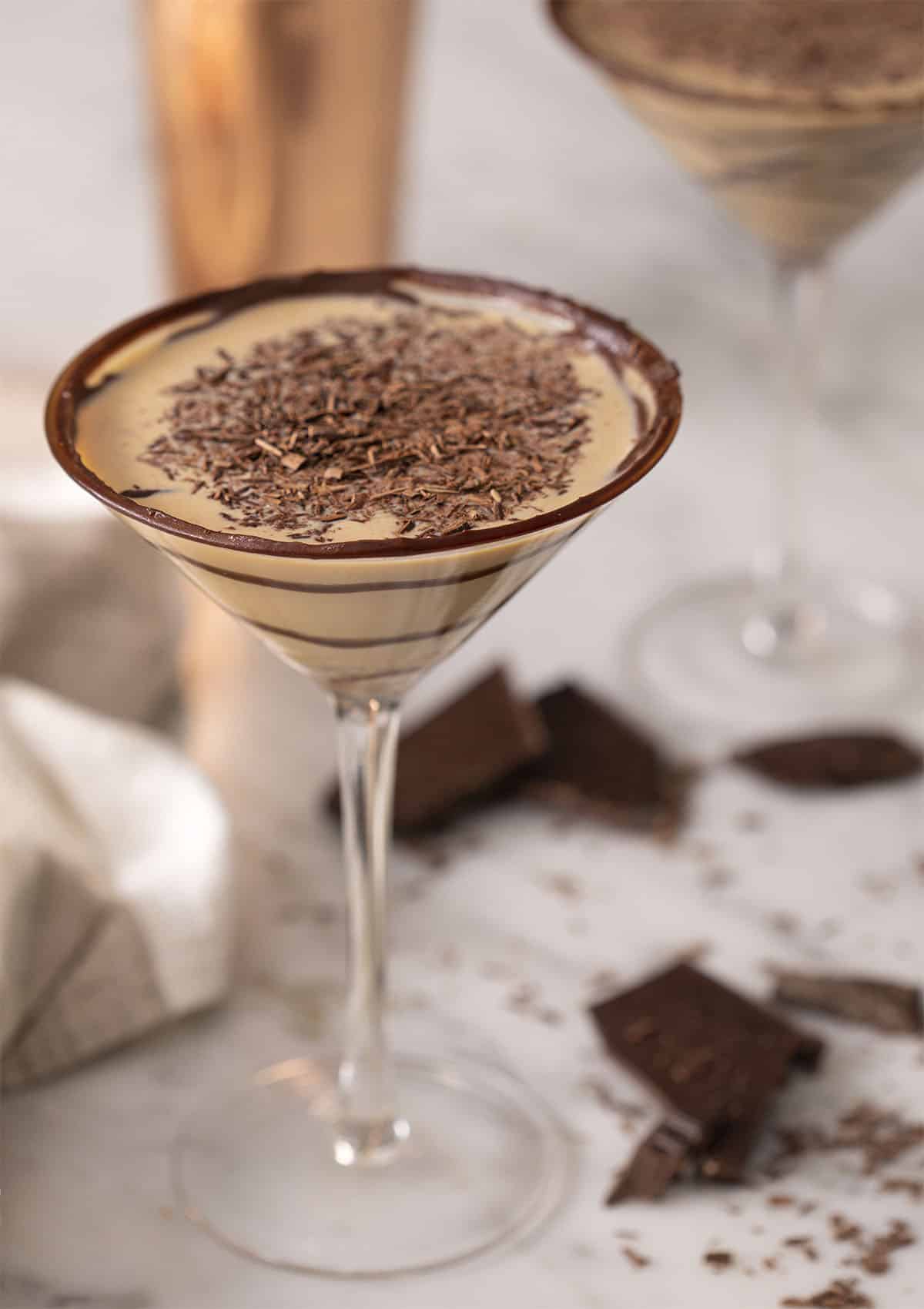 This chocolate martini is a boozy dessert in a glass. Vodka combined with chocolate liqueur make the perfect, easy to make after dinner treat for when you're craving something decadent with a wonderful chocolate flavor. When you'd like a rich indulgent cocktail that tastes like dessert then a chocolate martini is the drink for you! This quick and easy cocktail is perfect for all the chocolate lovers out there and one of the best Martini recipes of course. 
Get the recipe here.
---
15. Chocolate Strawberry Martini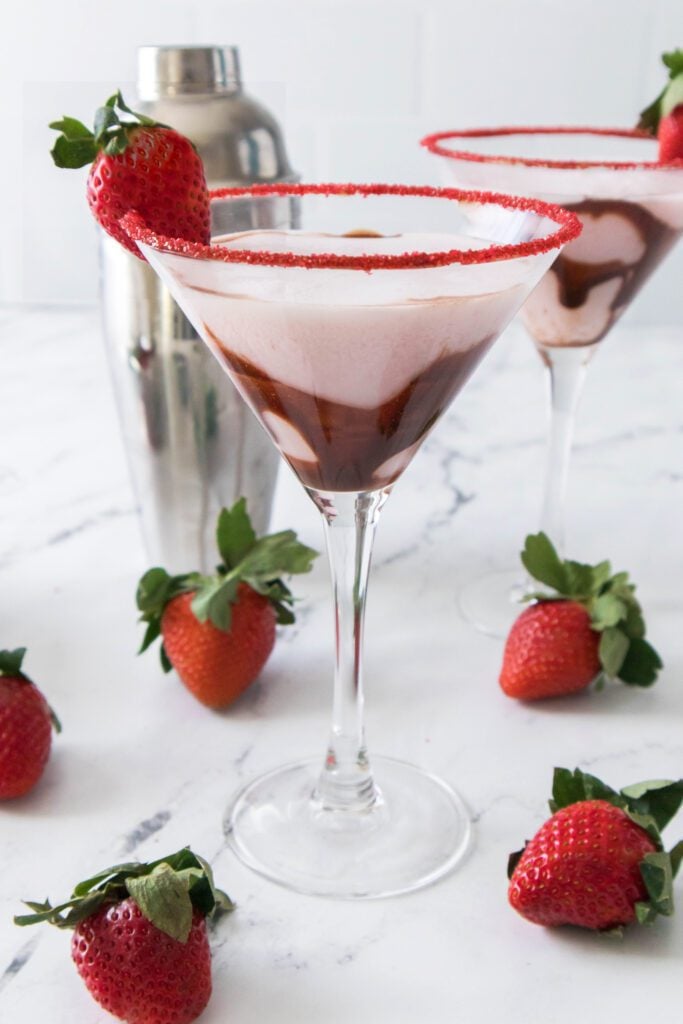 This Chocolate Strawberry Martini  is made with just three delicious ingredients and perfect for a celebration! Rich and creamy, this cocktail will shower anyone with love! And there are fun glasses to drink them from, like these Wooden Martini Glasses from Uncommon Goods! Not only are they gorgeous, and lightweight, and better at keeping drinks cold….but since they're made from wood, they don't shatter at the first bump. It's one of my favourite Martini recipes I have ever tasted. 
Get the recipe here.
---
14. Gingerbread Martini
This gingerbread martini recipe is a delicious Christmas drink with Baileys, the absolute best Christmas Cocktail to enjoy with friends and family or at your next holiday party. Is it that time of year where you want to cozy up by the fire in your pajamas while enjoying a delicious Christmas Cocktail? I thought so! And if you are in the mood for some boozy holiday ideas, you should probably whip up an easy batch of my delicious no-bake Rum Balls to enjoy!
Get the recipe here.
---
13. Grapefruit Martini
If you've ever had grapefruit juice, you can imagine how this recipe is slightly tart and a little bit sweet.  This Grapefruit Martini is super delicious. There's no need to wait for a special occasion to make yourself one either! This is one of the perfect Martini recipes for your next girl's night, a holiday get-together or to cap off a long day.
Get the recipe here.
---
12. Purple Martini
What a perfect cocktail for parties! This vibrantly purple "martini" is as tasty as it is beautiful. In a blender or food processor add all ingredients and blitz for 20 to 30 seconds on high speed. Salt the rim of your martini glass. Pour and Enjoy! It's one of the most delicious and beautiful Martini recipes I have ever seen and tasted. 
Get the recipe here.
---
11. Gin Martini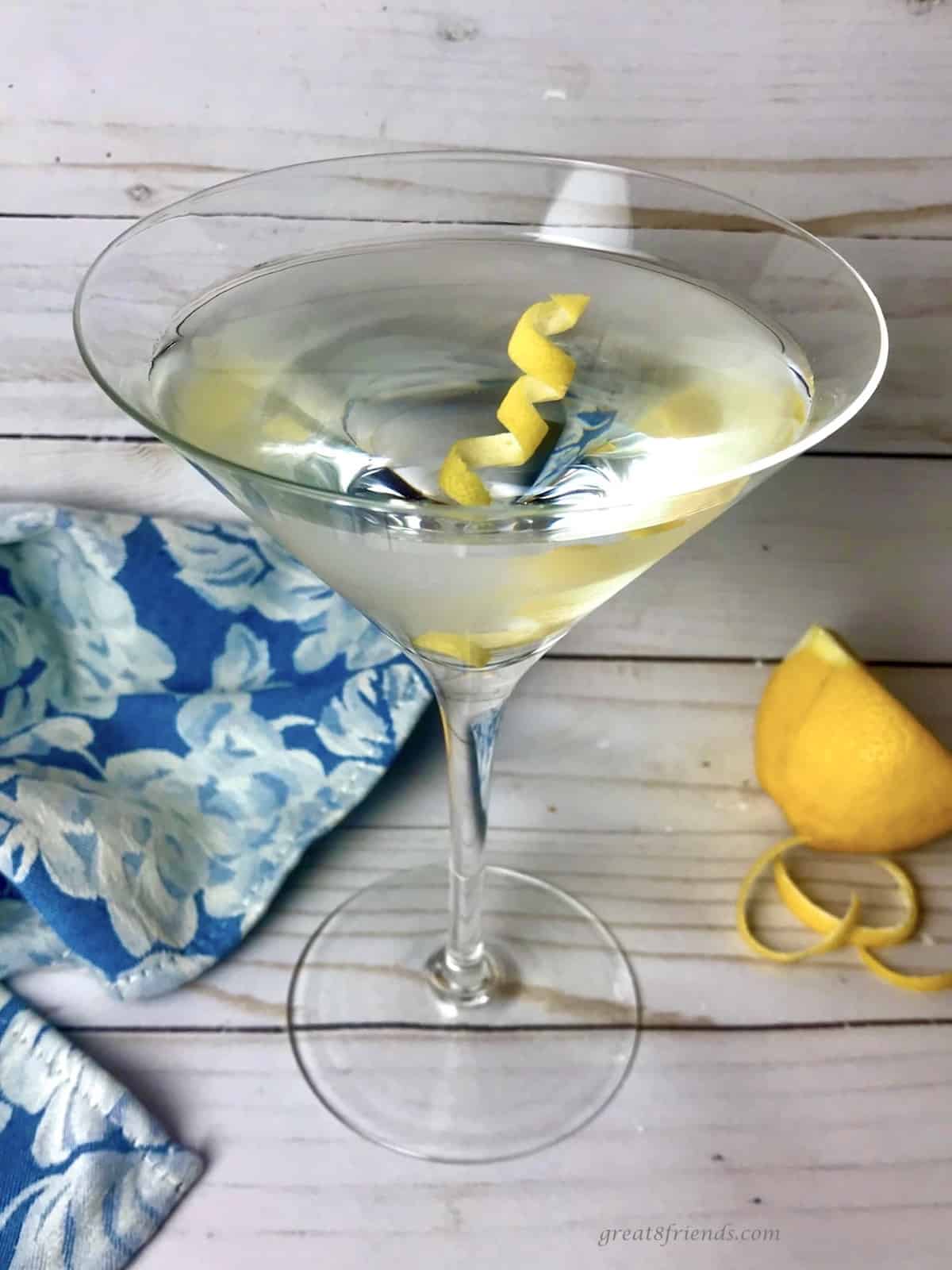 The classic gin martini is a simple cocktail to mix….. gin, dry vermouth and orange bitters with an olive or lemon peel for the garnish. Most importantly, it should be stirred and never shaken. Shaking it over dilutes the ingredients and clouds the final pour. The ratio of gin to vermouth has changed as well, leading to a dryer version with less and less vermouth. The "Perfect Martini" is actually half gin and half dry vermouth, much too "wet" for my taste. It's one of the best Martini recipes I have came across. 
Get the recipe here.
---
10. Peppermint Bark Martini
This Peppermint Bark Martini is the ultimate peppermint cocktail perfect for celebrating the holiday season! Made with Rum Chata, Creme De Cocoa and Peppermint Schnapps, this martini has a creamy texture and fantastic peppermint flavour. It's one of my favourite Martini recipes now and I am sure you will love it too. Try it at home and enjoy with your family and friends. 
Get the recipe here.
---
9. French Martini Recipe 
The French martini is a triumph! This classy cocktail is perfectly balanced with vodka, pineapple juice, and raspberry liqueur. This martini is hardly related to the classic dry martini at all. It's fruity and balanced, featuring a fancy French black raspberry liqueur and pineapple juice. Each sip is so intriguing and nuanced, it's hard to put the glass down! This is one of my favourite Martini recipes now. 
Get the recipe here.
---
8. The Perfect Pomegranate Martini
This pomegranate martini with citrus vodka and lime has become my signature cocktail. We serve it at family gatherings and to toast the holidays. It's especially popular during Rosh Hashanah, when pomegranates are eaten to symbolize "new fruit," celebrating the start of the harvest season. I used to make this Pomegranate Martini cocktail with sweetened lime juice. Lately I have transitioned to fresh lime juice for a more subtle, balanced sweetness. I have also added orange blossom water, which gives a lovely fragrance to the cocktail. 
Get the recipe here.
---
7. Watermelon Jalapeño Martini 
Watermelon Jalapeño Martini recipes are the perfect balance of sweet and spice. So refreshing and no fancy liquors required! All that to say these drinks are THE BOMB. Not too sweet, welcomingly tart, and a spice level that you can adjust to your tastes. I love that these martinis are made with simple, everyday ingredients – no liquors required. All you need is fresh watermelon, lime, tequila, and jalapeño-infused simple syrup, which is just sugar, water, and a jalapeño simmered together for 2 minutes. 
Get the recipe here.
---
6. Seven Seas Martini Recipe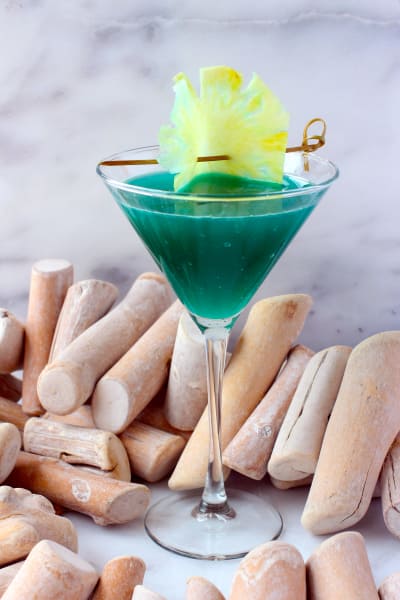 This Seven Seas Martini recipe is a fun cocktail made with Blue Curacao. A tasty drink that's a bit stronger than average, but hits the spot! You can make this martini recipe with our Homemade Amaretto! Of course store bought Amaretto will do the trick but homemade is always the best! Typically we find modern day Amaretto to be on the sweeter side, which is one of the reasons why making it from scratch is totally the way to go. You can balance out the level of sweetness that you like and how long you let the liquor steep. This homemade Amaretto isn't very bitter at all, which is the way we like it. It's one of the most amazing Martini recipes I have tasted till now. 
Get the recipe here.
---
5. Blackberry Vanilla Vodka Martini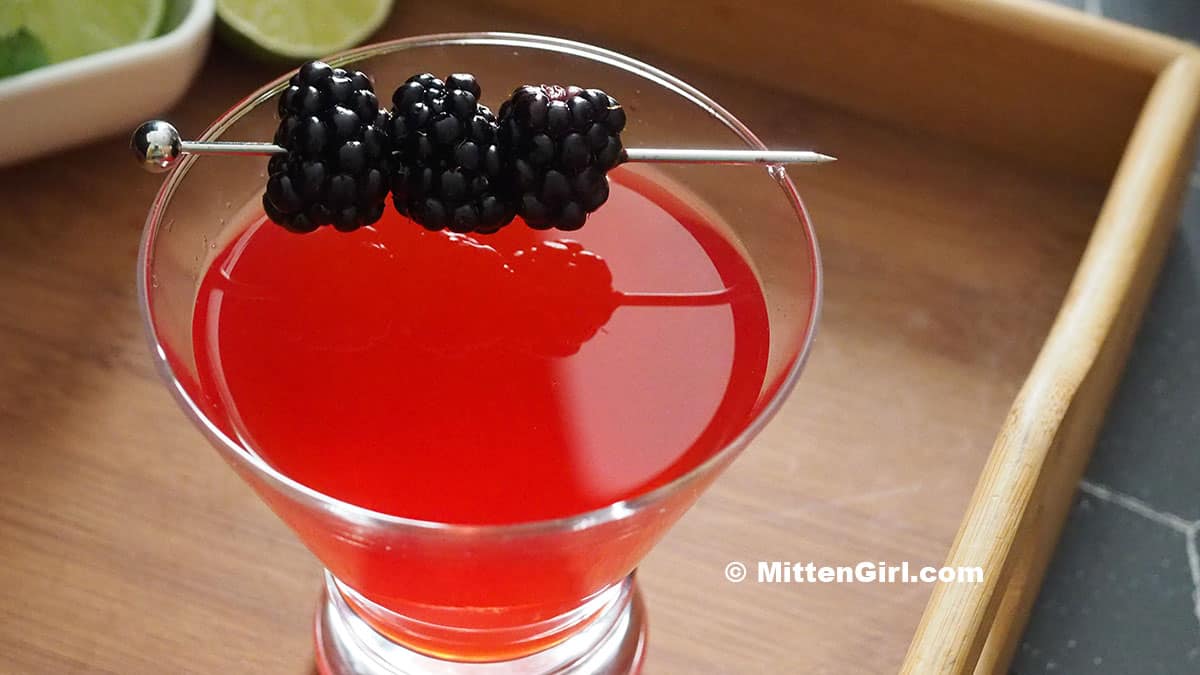 Blackberry and vanilla are a perfect pair. Adding lime to the mix creates a refreshing, tart cocktail in this blackberry vanilla vodka Martini. Muddle mint, blackberries, and lime juice in a cocktail shaker! Add ice, simple syrup and vodka.Shake well. 
Pour through a fine mesh sieve held over a coupe or martini glass. Enjoy! It's one of the best Martini recipes to enjoy on holidays with your family and friends.
Get the recipe here.
---
4. Red Velvet Cupcake Chocolate Martini
Celebrate a little Christmas cheer with this amazing Bailey's Red Velvet Cupcake Chocolate Martini. I'm taking a break from Christmas decorating to try out a holiday cocktail with a few of my blogging friends. Be sure to read to the end of this post to see all of the festive holiday drinks. No fuss, no mess, no bake. Just creamy Baileys, with a red velvet twist. That's our kind of cake. It's just too tasty and has become one of my favourite Martini recipes now. 
Get the recipe here.
---
3. German Chocolate Cake Martini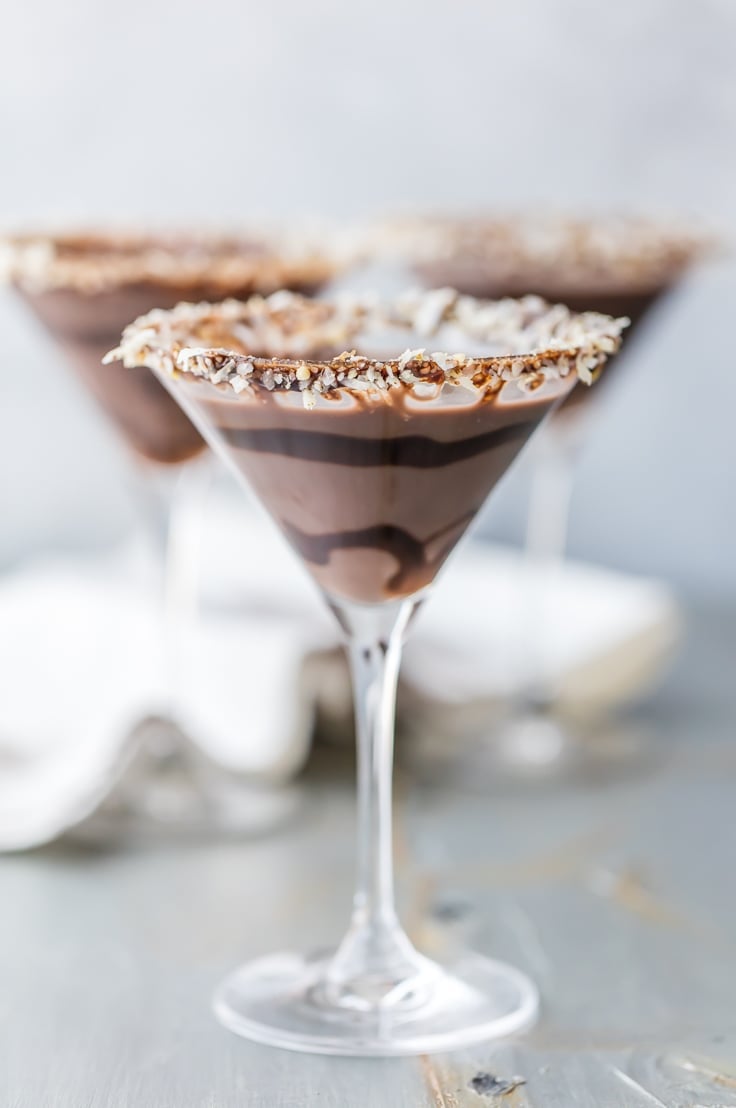 A Chocolate Martini is one of the perfect dessert Martini recipes, and this German Chocolate Cake Martini really takes it up a notch! With the flavors of chocolate, coconut, and hazelnut mixed together, it tastes like you're taking a bite out of your favorite chocolate cake, in cocktail form. It's so delicious and one of the perfect holiday ideas I can suggest. 
Get the recipe here.
---
2. Cucumber Mint Martini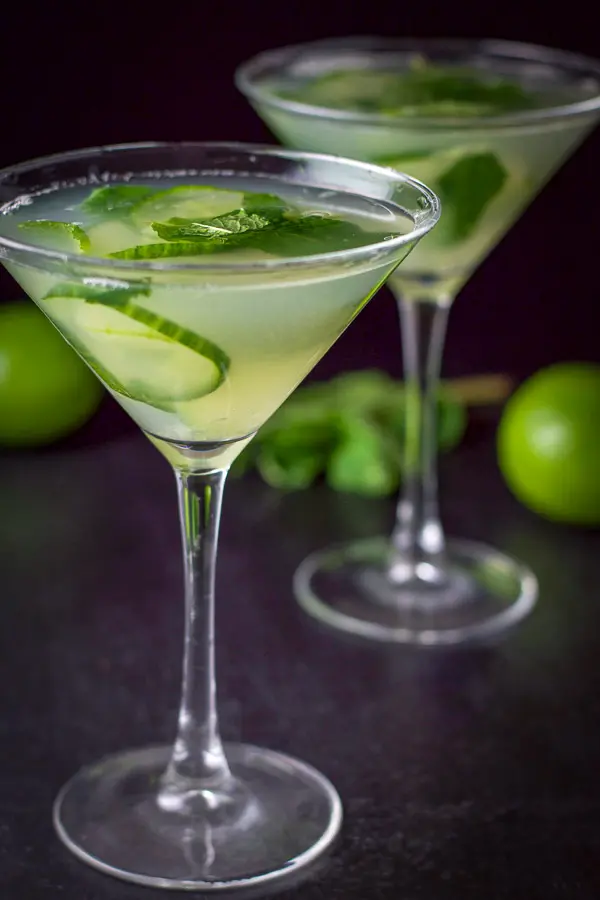 This is my cucumber mint martini recipe. All the ingredients together make it slightly sweet, cool – because of the mint and cucumber and so refreshing.  It's a taste to be savored and loved! So, cucumber mint! I'm doing a little hip swivel dance right now. This drink is so tasty, it's unbelievable. This Cucumber Mint Martini is one of the tastiest variations on the classic martini recipes out there. 
Get the recipe here.
---
1. Candy Corn Martini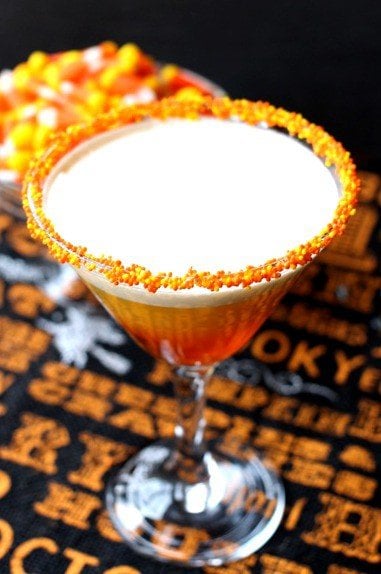 Candy corn martinis are the fun cocktail that makes any spooky or cute Halloween party extra sweet.  Candy corn makes its way into trick or treats bags all over the country each October. Who says the kids are the only ones that get the trick or a treat for fun on Halloween? The treat of this martini is how sweet and rich it is. It is definitely a special occasion sort of cocktail.  The trick for this martini is that the grenadine is a thick sweet syrup that will sink to the bottom of the glass and create the bottom layer of what will be a 3-layer beverage. So what are you waiting for guys?? Holidays have already started. Make these amazing Martini recipes and enjoy these holidays with your family and friends. 
Get the recipe here.
---
Suggested Recipes You May Like:
Keto Air Fryer Recipes
Christmas Dessert Recipes
Fall Cookie Ideas
High Protein Vegan Meals
Christmas Drink Ideas
Weight Watchers Lunch Recipes
Christmas Truffle Ideas
Fall Dessert Recipes
Meals Under 200 Calories
Christmas Dinner Ideas
Weight Watchers Dinner Recipes
New Year's Brunch Recipes
High Protein Low Fat Recipes
Fall Salad recipes
Christmas Cookie Recipes
Weight Watchers Recipes
Snacks For Breastfeeding Recipes
Low-Calorie Snacks
Fall Bread Recipes
High Protein Vegetarian Recipes
---
If you like this article about "martini recipes", please share this with your friends on Facebook and Twitter. Also, you can subscribe to my blog to get all the latest articles first on your mobile.