I always used to worry that dairy free desserts would be thin and lacking in flavor. How can you get a thick and fluffy frosting without butter? As it turns out, there is a treasure trove of dairy-free alternatives for you to make some of your favorite treats. Chocolate brownies? Check. Creamy cheesecake? Sure thing. Homemade peanut butter, chocolate chip cookie dough ice cream? You better believe it! So whether you have a dietary need, or are just looking for a change, let's look at 21 of the most delectable dairy free desserts out there. If you're following a dairy-free diet but have a sweet tooth, look no further than these dreamy dessert recipes. We have plenty of treats for vegans, too. 
---
21. Gluten Free Holiday Toffee Squares (Dairy Free)
These Gluten Free Holiday Toffee Squares are easier to make than stovetop candy, and they are dairy free desserts! My kids call this recipe "cheater toffee" since it's so easy to make and tastes like toffee. I *almost* had success with one batch of toffee, it would have been great if it didn't scorch a little.

I misplaced most of my dairy free toffee notes from several years ago, so I had to start from scratch again and make the same toffee mistakes. For this modified version of the toffee squares, I used quick oats instead of old-fashioned oats, I used coconut oil and dairy free natural margarine instead of butter, and I replaced the corn syrup with honey.
Get the recipe here.
---
20. Dairy-Free Vanilla Custard 
Dairy-free Vanilla Custard is a comfort food dessert that's also nourishing, with plenty of omega-3-rich egg yolks and healthy cholesterol. This creamy treat is perfect for Paleo, GAPS, SCD, Keto, and Low Carb diets, and you'll never know the dairy is missing!

Comfort foods vary in texture, flavor, and temperature: homemade fried chicken, chocolate cake, and ice cream. I really prefer savory foods these days and eat a lot fewer desserts and treats.

But in the world of healthy dairy free desserts, for me, the ultimate sweet comfort food is warm, thick vanilla custard, like the kind you find in England, poured over "pudding" or apple crumble. Surprisingly, most of these warm custards in England today are made from a powdered mix. But how heavenly to have the homemade version of that viscous goodness to cloak a steamed cake, cobbler, or deep-dish pie. Eat it with a spoon.
Get the recipe here.
---
19. Almond Oat Crumble Blackberry Pie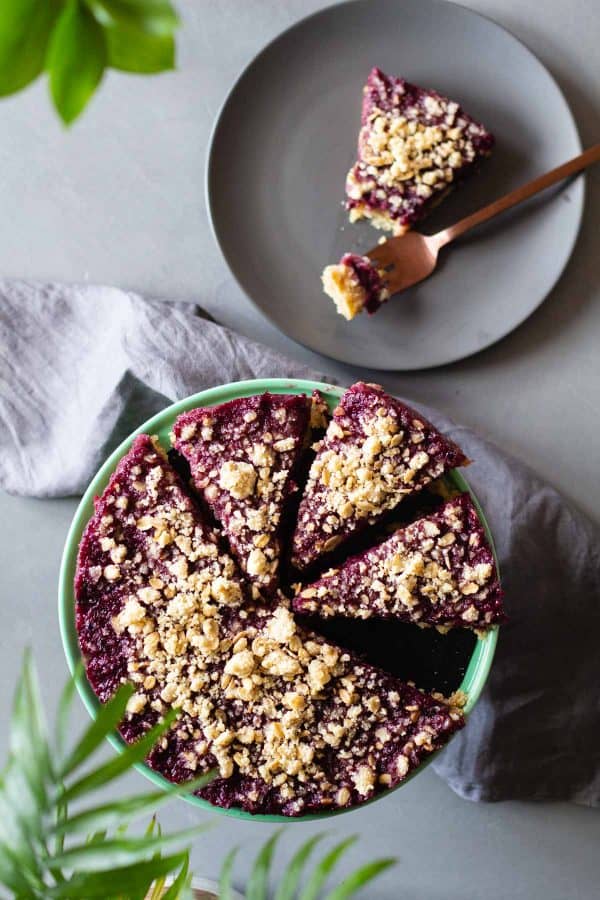 This gluten-free and dairy-free Oat Crumble Blackberry Pie is sweetened with just honey and maple syrup. The perfect dessert to satisfy your sweet craving in a healthy way.

For the blackberry pie crumble layer on top, leave the almond oat crumble the way it was once you first mixed it. Sprinkle it on top of the filling and it will be deliciously crumbly and still somewhat soft because it's baked less time than the base. Similar to jam.

Just cook the blackberries until they are easy to squish against the wall of the pot. This takes about 15 minutes. Sweeten them with the sweetener of your choice.

Honey, Maple Syrup, brown sugar, white sugar, or even sugar alcohols work perfectly fine. And if you are a coconut flavor fan, add some desiccated coconut.
Get the recipe here.
---
18. Gluten-Free Pumpkin Pie
Easy Gluten-Free Lemon Bars that are sweet, tangy, and refreshing. With a buttery, flaky crust and a creamy lemon filling, you're going to love this gluten free lemon bars recipe and how quickly it pulls together. Everybody needs a good Easy Gluten-Free Lemon Bar recipe in their recipe box, right?

Lemon bars are classic dessert recipes, and they are perfect for parties, pot lucks, and the occasional weeknight holiday ideas. Who knows when the first lemon bar recipe was created, but since then I've seen thousands of versions – each one with a slight adaptation making it their version of the perfect lemon bar.

This lemon bar recipe uses fresh lemon. I don't recommend using bottled lemon, it just doesn't have the same effect and sometimes the lemon juice can cause baked goods to have a rubbery texture.
Get the recipe here.
---
17. Almond Flour Shortbread Cookies with 3 Ingredients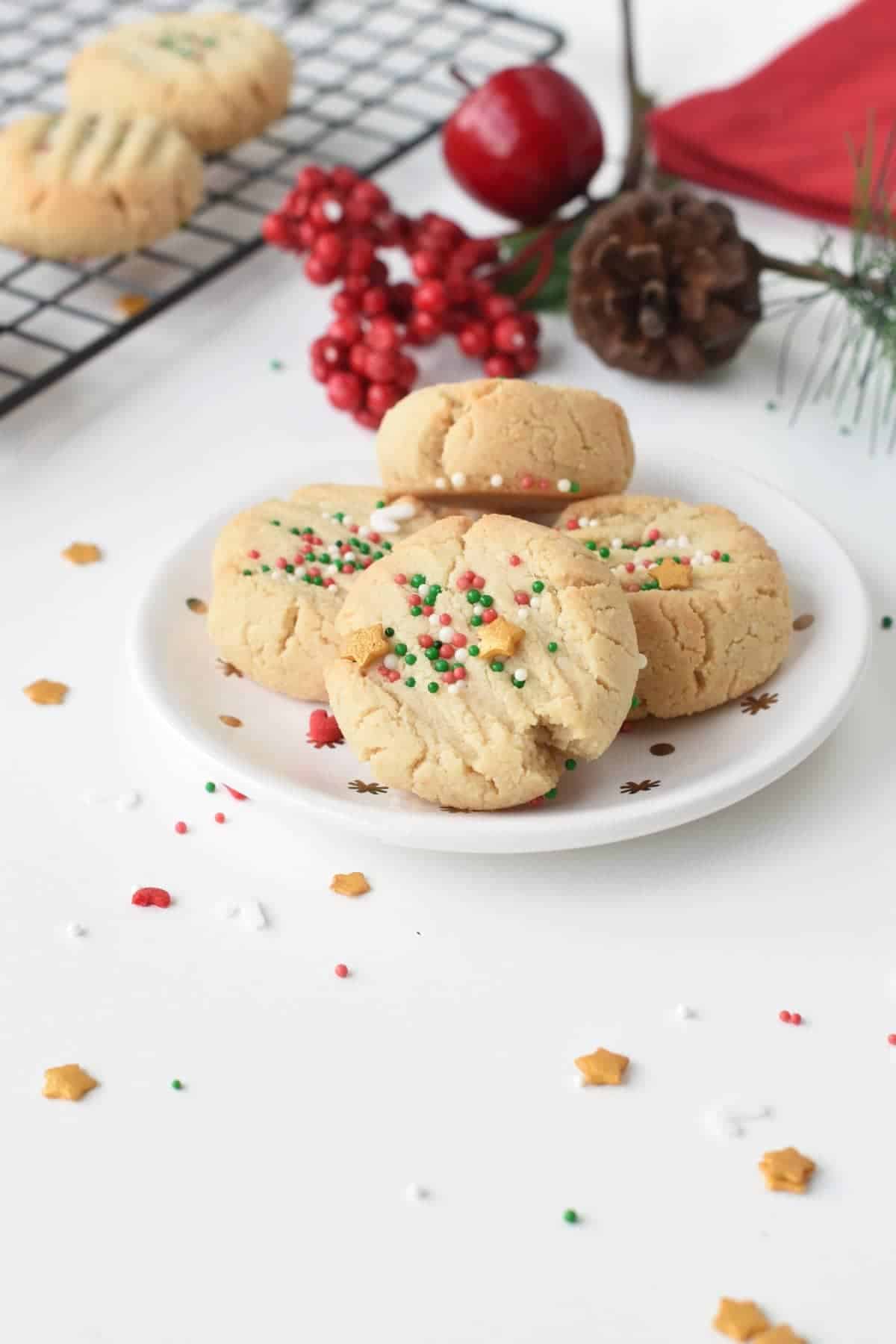 These gluten-free almond flour shortbread cookies are the easiest, healthy vegan shortbread cookie recipe. They have the best tender, melting texture and are slightly crispy when you bite into them.

If you love shortbread cookies but want to make them a little bit healthier, with fewer carbs, and avoid wheat flour, this is the recipe for you. Almond Flour Shortbread cookies are made with a handful of ingredients and ready in no time to enjoy for breakfast, snack, or dessert.

This is an easy vegan almond shortbread cookie recipe meaning they are egg-free, dairy-free cookies. Consequently, their texture is slightly softer than a regular shortbread recipe but an amazing healthy shortbread cookie recipe without butter. 
Get the recipe here.
---
16. No-Bake Banana Pudding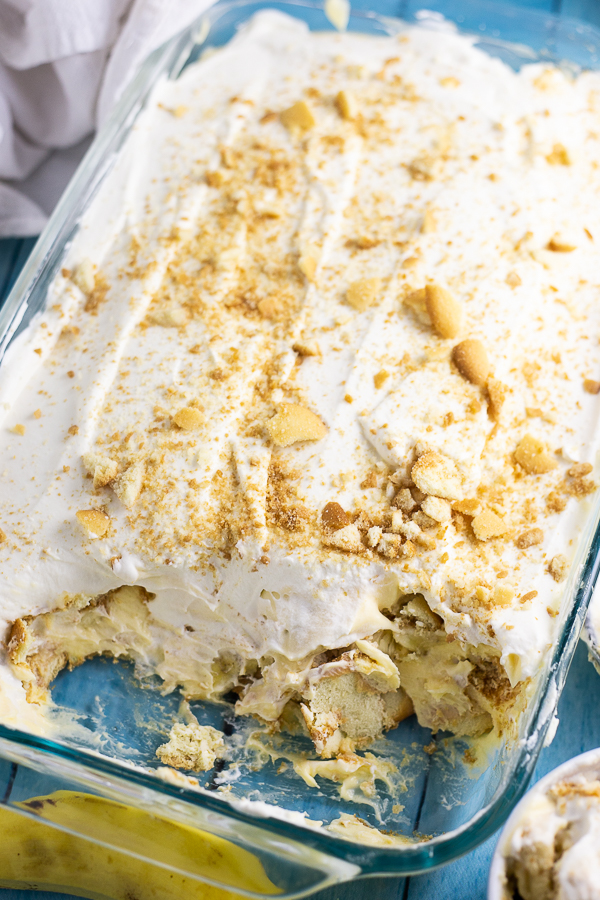 This timeless old-fashioned No Bake Banana Pudding features creamy vanilla pudding, crunchy vanilla wafer cookies, sweet banana slices, and fluffy whipped cream in every bite. All banana pudding generally consists of vanilla or banana pudding, vanilla cookies, and banana slices.

It is then topped with either whipped cream or meringue. No Bake Banana Pudding is the American classic dessert recipes layered with creamy pudding, vanilla wafer cookies, fresh banana slices, and fluffy whipped cream.

Every bite has this amazing crunchy, creamy, sweet, and airy combination, making it the ultimate comfort food and family favorite for holiday ideas. This ridiculously simple recipe can be thrown together in about 20 minutes, and the hardest part is waiting for it to chill!
Get the recipe here.
---
15. Keto Peanut Butter Pie – Dairy-free
Keto peanut butter pie is nothing new – it's utterly ubiquitous in the keto world. Almost everyone has a recipe for it, and they tend to be slight variations on the same theme: a low-carb dairy free dark chocolate crust filled with cheesecake-based peanut butter filling.

Creamy and rich, this Keto Peanut Butter Pie is completely dairy-free too! Low carb dessert recipes for peanut butter lovers. So you want to hear something a little crazy? I just created a totally vegan keto dessert by accident. Yup, by accident. This Keto Peanut Butter Pie is dairy-free, egg-free, and completely free of any animal products.

And I didn't even mean to. The reality is that I am not vegan in any way, shape, or form. I believe eating animals is what humans are supposed to do. I believe it's better for our health and our planet.
Get the recipe here.
---
14. Gluten-Free Strawberry Shortcakes
An easy recipe for Gluten-Free Strawberry Shortcake. Fluffy, flaky, and sweet biscuits topped with strawberries and whipped cream. The recipe also has a dairy-free and vegan option.

Making homemade gluten-free strawberry shortcakes are super easy! Shortcakes are sweet biscuits that are filled with sliced strawberries and whipped cream. These easy gluten-free dessert recipes use a sweet version of my Gluten-Free Buttermilk Biscuits to make the shortcakes.

So if you have tried my gluten-free biscuits, you are going to love these gluten-free shortcakes! If you do not have buttermilk, make your own buttermilk by adding 1 tablespoon of white vinegar or lemon juice to the cup of milk and let stand 5-10 minutes in the refrigerator to keep cold. You can also make buttermilk out of dairy free desserts.
Get the recipe here.
---
13. Banana Split Icebox Cake Recipe (Dairy-Free)
For a strictly vegan banana split icebox cake, it's important to know that most graham crackers do contain a touch of honey. Nevertheless, there are a few rogue honey-free brands out there. As another option, you can swap in your favorite crunchy strictly vegan cookies.

The whipping of the coconut cream can be a little too delicate for very young cooks, but the graham crackers, fruits, and toppings are fun for anyone to help with. Bananas are soft enough to slice with a table knife, making them a great first-cutting job for young sous chefs.

My sister is a young teen, and able to make this banana split icebox cake from start to finish. She and I are hooked on my mom's coconut cream recipe and are on the lookout for more ways to use it!
Get the recipe here.
---
12. Apple Cinnamon Muffins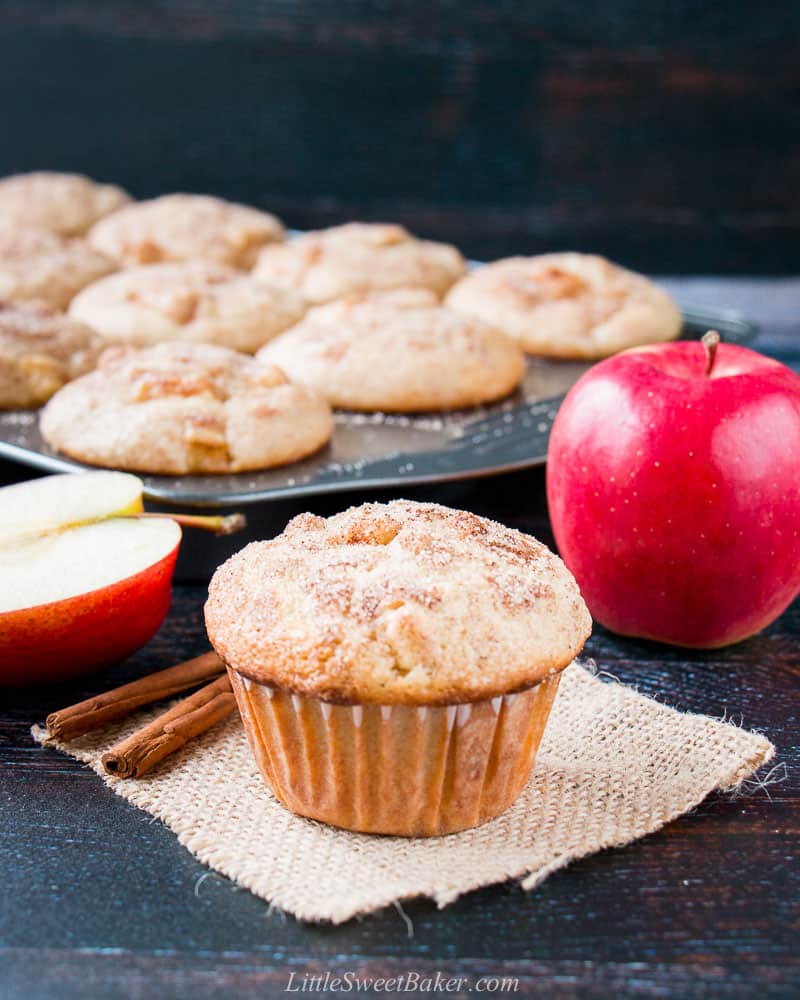 These apple cinnamon muffins are soft and moist with a sweet cinnamon finish. These dairy free desserts are easy to make and loaded with tender chunks of apples! This recipe is super quick and easy to make.

The most time-consuming part is peeling and chopping the apples. Easily substituted with whatever you have on hand, so you don't have to make a special trip to the grocery store.  The texture is super soft and fluffy.

It's full of apple flavor with a sweet cinnamon-sugar kick. A sweet variety that holds its shape when baked is best. Some of my favorite sweet baking apples are Royal Gala, Ambrosia, Honey Crisp, and Golden Delicious.
Get the recipe here.
---
11. Best Puppy Chow Recipe
The Best Puppy Chow Recipe  (AKA: Muddy Buddies) ever! Only 4 ingredients (no butter) and a few minutes result in an irresistible dessert loaded with chocolate and peanut butter! The perfect sweet treat to feed a crowd! Listen carefully,  my Puppy Chow Recipe is not for the faint of heart.

You will never find weak puppy chow in my kitchen. Do you know what I mean? The stuff that is so thinly coated with chocolate and peanut butter that the powdered sugar barely sticks to it? Not on my watch. I want clumps, and globs, and hunks, and chunks of chocolate-peanut buttery goodness. Now the name of these dairy free desserts can be controversial.

I'm a midwesterner (born and raised) so I call this treat "Puppy Chow." It has other names too, like muddy buddies, monkey munch, etc., but no matter what you call it, it's delicious.
Get the recipe here.
---
10. Gluten-Free Chocolate Chip Cookie Cake
Gluten free chocolate chip cookie cake is such a fun way to celebrate birthdays and special occasions! The recipe is gluten free and dairy free, and full of delicious chocolatey flavor that will leave your guests asking for more of these holiday ideas.

I was surprised that even though my sister knows gluten makes her very sick almost instantly, she actually asked if eating a little would hurt. Of course, I told her that eating a little was not ok and she understood and ate her cupcake. I also promised her that we would make our own gluten free chocolate chip cookie cake together at home and that it would be even better because we made it together.

The recipe is actually quite simple and only bakes for 20 minutes. I enjoyed it plain, and my kids liked topping it with chocolate frosting and sprinkles along the edge.
Get the recipe here.
---
9. Dairy Free Lasagna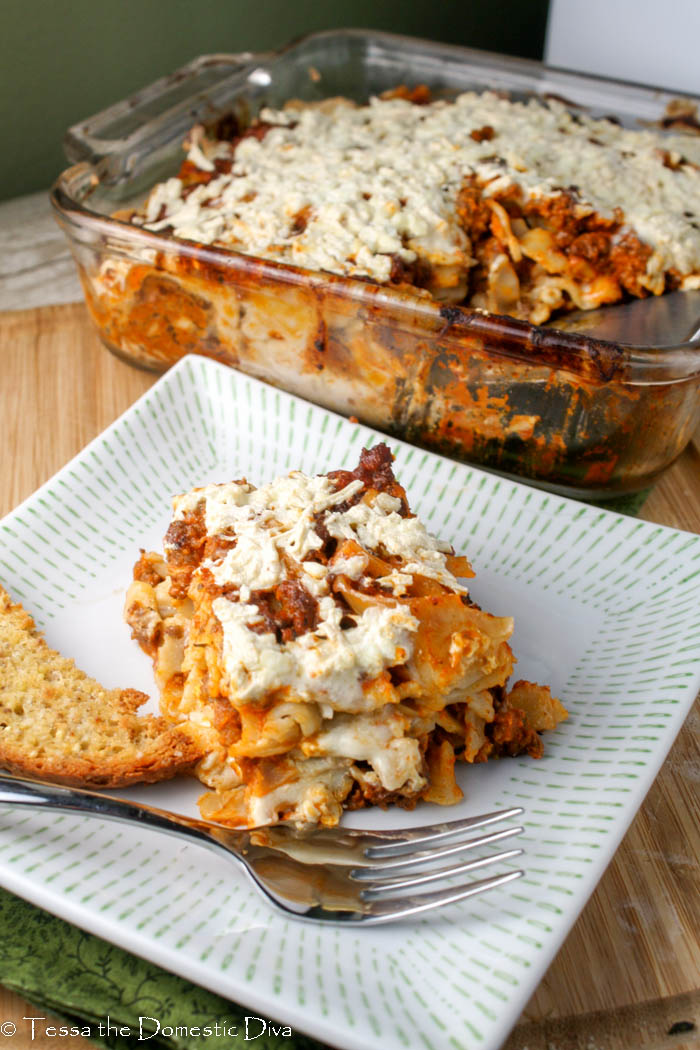 This dairy free lasagna is a totally creamy and satisfying casserole to serve your family.  I have provided two options, one dairy free desserts, and one not! Either way, this homey and comforting Italian dish will feed a crowd with a lot less effort than you would think!

Maybe because I grew up eating it…but I have always loved my mom's lasagna the best. We are creatures of habit, but anyone who eats her recipe always enjoys it, so it must be good by itself too! Then of course food intolerances galore set in, and the gluten and dairy in it were out.  Sigh. I needed to recreate the cheese sauce with no dairy.

The results are a creamy and dreamy casserole free of all gluten and dairy! For those of you still able to, you can use any lasagna noodles, and the dairy cheese mix to follow…OR try something new and just as delicious and totally dairy free!!
Get the recipe here.
---
8. Dairy Free Cookie Cake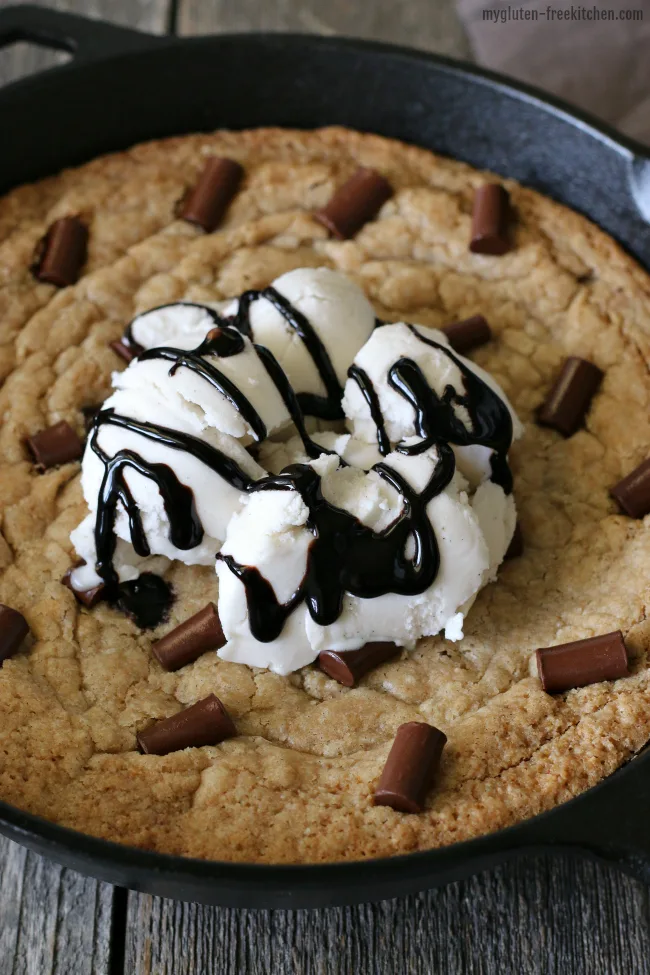 Dairy free cookie cake is such an amazing way to enjoy your holidays and any celebrations. This cake is delicious and easy to make with a few simple ingredients. So tasty, chocolaty, and loaded with chocolate chunks.

This cake is made in the skillet and it will take only 20 minutes or less to prepare at home. Enjoy the cake with vanilla ice cream and topped with chocolate ganache to make you feel crazy!
Get the recipe here.
---
7. Birthday Cake Blondies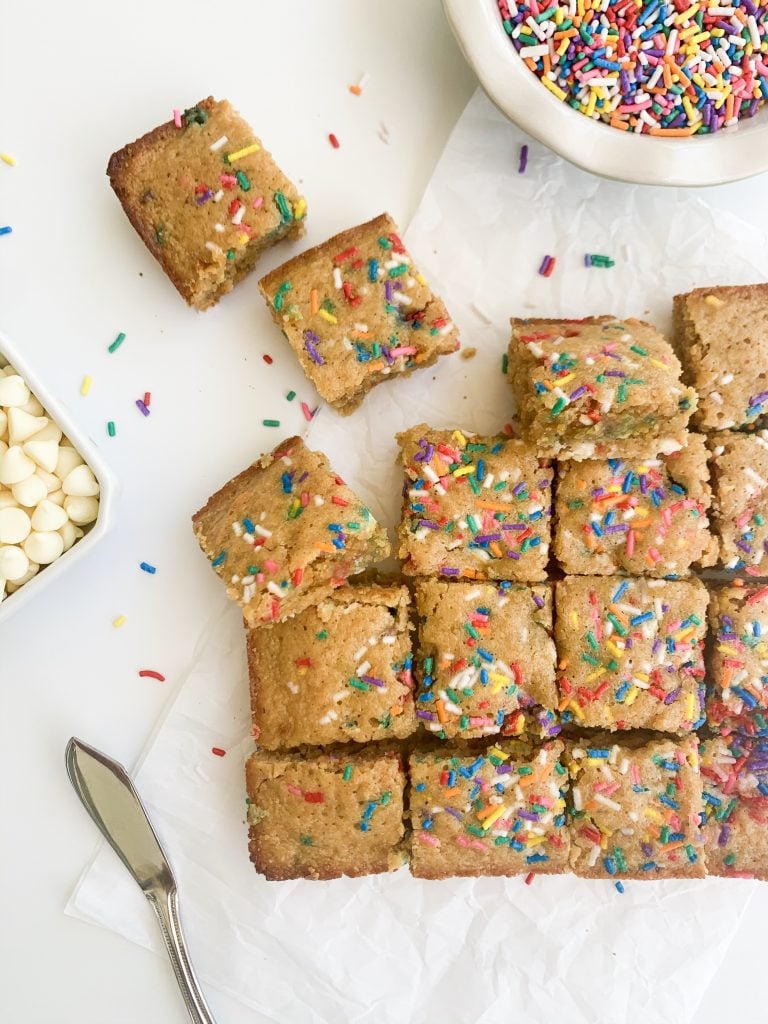 At the age of twenty, sprinkles still excite me. I don't know about you guys, but when my dairy free desserts have sprinkles in them the dessert tastes 100% more delicious. These Healthy Birthday Cake Blondies are inspired by my love of sprinkles … and of course my love for all things birthday cake.

Now I do enjoy birthday cake itself, but something about a different type of treat that is birthday cake flavored just hits! Do you know?? And these birthday cake or cake batter or funfetti blondies or whatever else you would like to call them are my new favorite! They are all the things a blondie should be.

Perfectly soft, gooey in the middle, fudgy all the way throughout, and of course loaded with my favorite … rainbow sprinkles. And my other favorite too … white chocolate! This simple celebratory sweet is absolutely perfect for any party!
Get the recipe here.
---
6. Homemade Vegan Strawberry Cake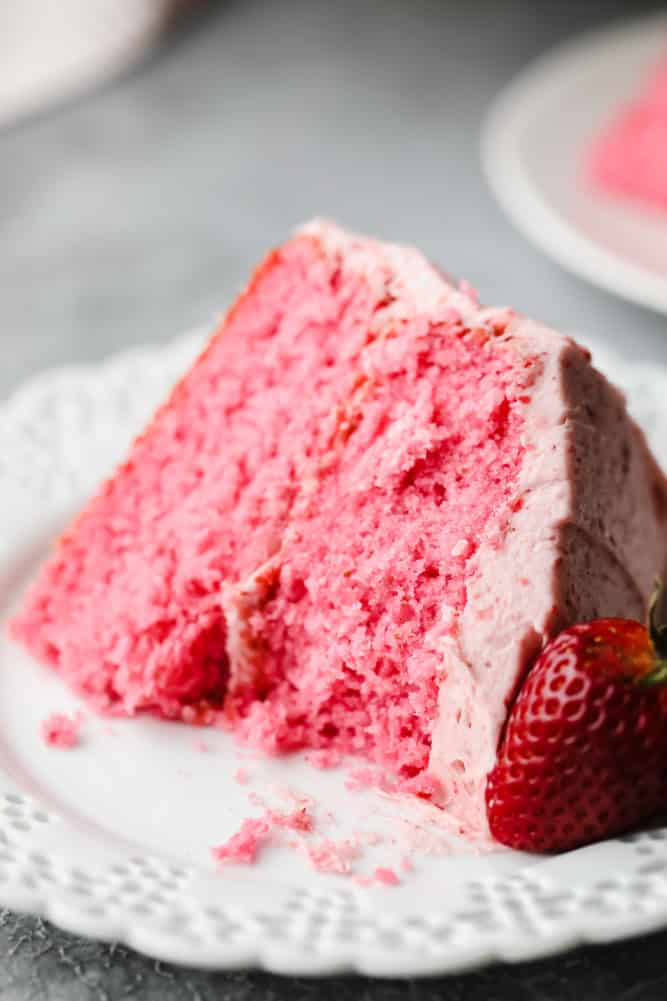 This is the best Vegan Strawberry Cake ever! Made with plenty of fresh strawberries, it's simply bursting with flavor. The pretty pink frosting is to die for! These wonderful Vegan Strawberry Cake are adapted from my Vegan Vanilla Cake recipes.

It's incredibly moist, fluffy, and made with plenty of fresh strawberries! I took a lot of tips from Sally's Baking Addiction and used reduced strawberry puree in the cake batter and freeze-dried strawberries in the frosting.

If you'd rather use fresh strawberries in the frosting as well, you can easily make the frosting from these Vegan Strawberry Cupcakes instead. You can't go wrong with either recipe!
Get the recipe here.
---
5. Pistachio Seven Layer Cookie Bars (Dairy-Free + Vegan) 
These seven-layer bars are the most decadent and delicious recipes for dessert – you won't even be able to tell they are dairy-free/vegan/gluten-free friendly! Best Ever Seven Layer Bars A little twist on a classic recipe! Now, I am not saying I have made these so healthy you should have one for breakfast. 

I changed out the sweetened condensed milk or coconut milk for a dairy-free version and I couldn't even tell the difference in the final product.  I also changed out the coconut for the unsweetened kind (again, you ultimately can't tell the difference).  And, while I still used graham crackers, I swapped out the butter for vegan butter. 

And I omitted the butterscotch chips altogether – maybe if someone came up with an almond-butter chip or even a 100% peanut butter chip that would be okay, but I couldn't find anything like that!  They turned out SO GOOD!
Get the recipe here.
---
4. Fruit Tart with Vanilla Cream
A lovely fruit tart with an easy-to-make gluten-free crust, a perfect dairy free vanilla pastry cream, and topped with your favorite fruit or berries. Somehow I had gotten through my entire adult life up until then without tasting one of those cream-filled treats.

And it was LOVE at first bite. But it wasn't the perfect pastry dough outside or the chocolate glaze on top that had my heart fluttering. It was the vanilla pastry cream on the inside. Silky, smooth, and lightly vanilla flavored. Where had this been my whole life?

So I'm not going to try to compare this fruit tart to a luscious eclair, but the custardy vanilla cream is definitely inspired by that first decadent bite many years ago. And after many test batches, I think I finally nailed down my dairy free desserts and refined sugar free version.
Get the recipe here.
---
3. Healthy Cake Batter Balls
Looking for a healthy cake batter balls recipe that is completely gluten free, vegan, tastes like cookie dough, and can also be a protein-packed dessert?

This five-ingredient no-bake recipe is perfect for kids and can be made in five minutes or less. My inner child is kinda sorta freaking out right now because these healthy cake batter balls are probably one of the best and most fun healthy desserts I have ever made! These little cookie dough-like balls are essentially just healthy truffles on crack.

They are perfectly sweet, but only made with natural sugar, which in this case is maple syrup, and are actually packed with protein. You could even add protein powder into them if you wanted to!
Get the recipe here.
---
2. Vegan Vanilla Cupcakes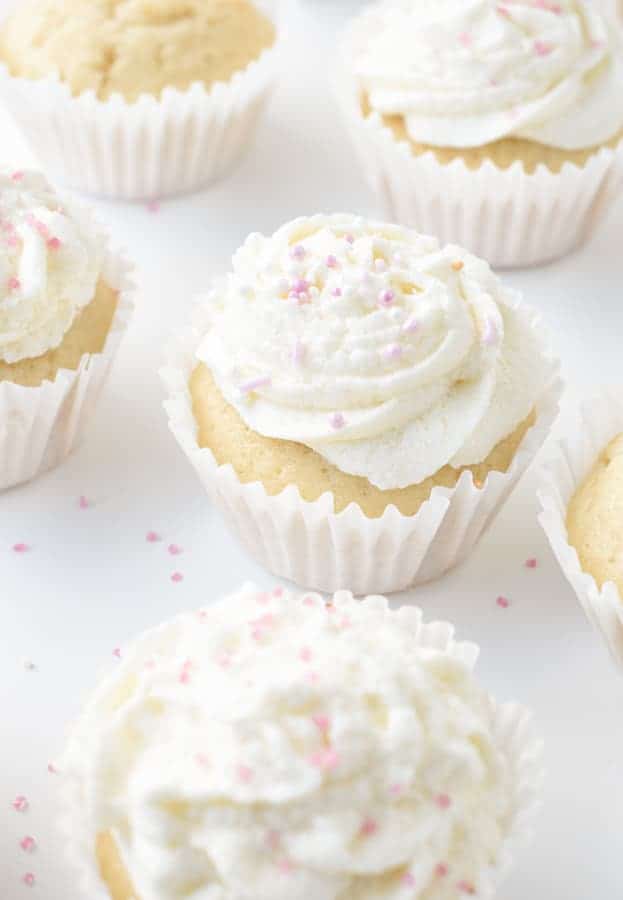 The best vegan vanilla cupcake recipe, an easy, light, fluffy vanilla cupcake recipe perfect for celebrating any occasion. Don't forget to add the vegan vanilla frosting and a few sprinkles to make them a little fancy! It is easy to make homemade vanilla cupcakes without eggs or dairy.

All you need is to combine the dry ingredients with the wet ingredients, using an electric beater, spoon, or a stand mixer with the paddle attachment. Let's see the ingredients you need to start and create the best moist vegan vanilla cupcake recipe!

The tricky part of making beautiful cupcakes is to fill the cupcake liners evenly up to a maximum of 2/3 of their capacity. You should never fill the cupcake liner up to the top, or the cupcakes overflow in the oven and look like muffins.
Get the recipe here.
---
1. No-Bake Vegan Snickers Bars
These no-bake Snickers bars are raw vegan Snickers made of wholesome ingredients and unrefined sugar. Plus, they are gluten-free and paleo-approved!

No-bake Snickers bars or raw vegan Snickers are a healthier version of your favorite commercial snickers bars. They have a similar taste and texture as the one you love from the store without the refined ingredients. These are healthier versions of your favorite Snickers bars.

Of course, I can't say healthy because they are still high in calories and saturated fat from peanuts. But, the wholesome ingredients in this recipe provides fiber, nutrient, and less sugar. So if you want to indulge in raw vegan desserts this is a better option than any other treats made of refined sugar!
Get the recipe here.
---
Suggested Recipes You May Like:
Gingerbread Recipes
Keto Air Fryer Recipes
High Tea Recipes
Chia Seed Recipes
Snacks For Breastfeeding Recipes
Carrot Recipes
BBQ Chicken Side Dishes
Protein Ice Cream Recipes
Fruit Dessert Recipes
Brunch Recipes
High Protein Salad Recipes
Peaches Recipes
Weight Watchers Air Fryer Recipes
High Protein Vegan Meals
Weight Watchers Recipes
Ground Chicken Recipes
Margarita Cocktail Recipes
---
If you like this article about "Dairy Free Desserts", please share this with your friends on Facebook and Twitter. Also, you can subscribe to my blog to get all the latest articles first on your mobile.
---
FAQ
Q. What desserts are dairy-free?
There are lots of recipes have fairy free, here I share some of them. No-Bake Vegan Snickers Bars, Raw Blueberry Cheesecake, Vegan Vanilla Cupcakes, Dairy Free Cashewmilk Frozen Desserts, Pumpkin Blondies, Dairy-Free Vanilla Custard, and so on. You will get more dairy-free desserts in this post.
Q. What does non-dairy dessert mean?
Non-dairy dessert means desserts are made without the use of animal products like dairy, eggs, honey, and sugar refined with bone char. These vegan desserts are great for those who do not like to eat lactose or gluten and maintain their vegan diets.